Location – School Lake
Hours Fished – 4hrs
With the success of yesterday, I decided to head back to the school lake.  As it's Friday, I was in two minds, we all know what a Friday can be like on a carp lake.  I was surprised to only find one other angler on the lake when I arrived, but it didn't take long for another two more to arrive.  I do need to know for future reference how busy it gets.
After baiting the island before I left yesterday, it was my starting place.  With a bit of movement around the sticks on the water, it was definitely the place to start.  But this time, I had moved round to the right and was fishing off the dam wall.  My left rod was positioned on the same spot as my right-hand one was yesterday and the right rod was now in a completely new spot off the other corner of the island.  Hopefully, this change of swims will produce the goods.
The first take happened at 10 am on the left rod, this turned out to be a lovely looking Mirror.
The second take happened just as I was putting the first fish back!  This was a lovely Common.
Both were very hard fighting and gave a good account of themselves.  This is what it's all about over the Winter months.
The third take was not long after that and this was also to the right rod.  This had a PPS 12mm pop up over a bed of the CC and 8mm Catalyst pellets.  The other rod was a 12mm CC pop up, I love these little pop-ups on the Ronnie rig as there is no need for putty, they sit perfectly.
By 11 am (and during all the action), two other anglers had set up fishing around the island.  So I'm thinking if the action dies away I will have to move swim.  We shall just have to see if they cut the fish off, hopefully, they are held up down here.
Just after 11.20, I had my fourth take on the right-hand rod.  It instantly found a snag and after some effort, I eventually got half the rig back, it had shed the hook into a root off the side of the island!  Not very helpful.  It was quite ironic as I had moved away from another snag, but I'm still receiving action on the plus side.
After no getting any more action, there was now a match angler set up one swim down from where I was yesterday.  He was hauling them out.  It was clear that I had been cut off from the fish and it was time to move on for the last 2hrs.  I quickly packed away and headed down the lake looking for signs of Carp, I hadn't seen any when I was looking down the lake from my last swim.  So, I settled on an area where I'd previously caught from in past trips.
The sunshine had vanished and there was a bit of a cool breeze in the air.
Think it's one of those days!  Within 30 minutes of casting out in the new swim, I got a take and it founds a nice snag and the line cut.  Another fish has done me.  I'm never a fan of that happening and always do my best to avoid it.  It always niggles me for a time afterward. I can't complain though, 5 takes 3 landed and an hour to go.
I decided to change over to a CC on the right-hand rod and move to another spot as the ducks were very persistent.  Just after 2 pm, this rod ripped off and headed down the lake, it felt a lot bigger than anything that I had hooked before.  After a very hard fight, with a close call with the overhanging brambles, (and picking up the other rod) it was safely in the net.  I was happy with this after the last two takes and finally another one in the net
19lb 13oz Mirror
Oh so close to a twenty!  As it was almost pack up time, I tidied up and headed home a happy man.
Until next time
Richard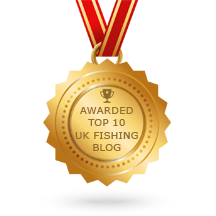 Please subscribe to my Video Diary
Consultant For
Sponsored By