Location – School Lake
Hours Fished – 4hrs
With my gardening job canceled today and unfortunately, the Perch bait is still in the freezer.  I quickly organized the carp kit, which is pretty simple as I keep it all sorted and ready to go.  I just need to grab the bait and as I had received my order yesterday from SF with the new Classic Corn Boilies, I just had to give them a go.
I arrived down there to find a couple of guys fishing and a work party going on down the shallow end.  I headed down towards the island, as this had to be my best option.  I catapulted some crushed CC out around the island and fish both pop-ups, one CC & PPS as I was interested in how they performed as hook baits against each other.
I was soon rewarded with my first take of the year and my first fish on the CC bait, it was a good fight which was over quickly and back safely.
Lovely Common
With the rod back out, I finished sorting the swim out and got the brolly up as a windbreak, it was pretty blowy out here today.
The second take happened out of the blue on the right rod, not long after a single bleep on the left rod, which I was expecting to fly off.  After a very hard fight, which was a Common, that just wouldn't give up in the margins.
19lbs 8oz Common
I flicked the rod out on the spot and topped the swim-up again with more CC.  I was hoping to bait up a couple of spots on the way back, I also moved the other rod, as it hadn't received any action.
Unfortunately, the next take took me straight into an underwater snag that I was unaware of.  This is never going to help and despite my best effort, the hook pulled out and the fish was gone.
That was it for today.  Heavy rain was forecast, so I was off by 1315 and I'm so glad I was, the rain was tropical.
Until next time
Richard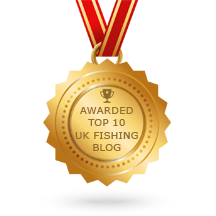 Please subscribe to my Video Diary
Consultant For
Sponsored By