Location – Meadow Lake
Hours – 22 Hrs
My original plan was to fish Sunday night, unfortunately, my daughter became unwell and we had to cancel our arrangements.  However, there is always a positive with everything in life.  After checking with the wife that's it was ok to go tonight instead of tomorrow, I find myself here.
After not being anywhere near a lake or in contact with any syndicate members over the Christmas period.  This is always best, otherwise, I would have tried to get on the bank and I really wanted 2 weeks with the family.  It's always nice to have a break and reset yourself for another year.
With this in mind, I really don't have any idea where to head and what to expect.  We had had a lot of rain, the River Avon was still over its banks and very high.  The level on the lake could only have gone up!  I drove around the lake looking for signs of carp and had a walk into a few swims.  There was only one other member night fishing and he was at the end of one of the points and I didn't fancy a walk out there.  There was a day angler about somewhere, a couple of the swims were pretty much underwater and unfishable.  However, the one that I was in on my last trip of the year here was free and just about fishable (as luck would have it) and I'm always confident that the fish are better here.  The next point along, being a few hundred yards of unfishable bank, does very much depend on the fish moving down this far because they treat that area as a sanctuary and don't venture out that much.  If the lake has been quiet over the holidays with not much bait going in there, it will have certainly slowed down and been just staying put.
I baited as before, after checking how clear the small gravelly area I have been fishing was.  As I was a lot further away from my rods than normal, I was going to be fishing this side of that spot, but I'm not sure it's a good move.  But I need to be able to get to the rods before the fish make it to the cover of the overhanging margins.  If that means I need to fish it differently, then I will.  As I don't think it's good angling to get a take at all costs, this could be to the detriment of the carp's safety.  My bivvy was set up as close as possible on the path which leads down to the swim.
I baited as before; with a mixture of 12/15mm Catalyst boilies, a bag of the particle mix and all soaked in Catalyst syrup.  They have a Ronnie rig with a small Catalyst dumbbell wafter and with a 12mm PPS on top – this sits up perfectly.  I use a safety clip and a 3oz Touchdown distance lead.  I like the heavier lead as I use slackline, this will help to get the hook home and generate the perfect hook hold.
With the rain arriving, it was time for a bite to eat, brew on, watch and listen out, hopefully for some Carpy signs.
The night drifted by without a single bleep and no sighs of Carp.  They may well have been active to my right, but I couldn't see very well.  I was certainly not leaving my swim with unattended rods, as 9 am drew ever closer, it was nearing the end of my first of many 2020 session.
Until next time
Richard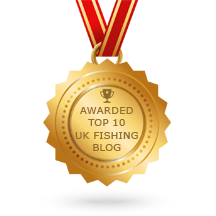 Please subscribe to my Video Diary
Consultant For
Sponsored By