Location – School Lake
Hours Fished – 5hrs
With another rubbish rainy day for gardening, it was perfect for a spot of fishing (before the pressure goes sky high over the weekend).  It's a great opportunity to get back on the School Lake and this time try something different.  I've baited a lot more than I have been doing and also off the pads a bit.  I'm convinced the bigger carp will feel the pressure of everyone casting into the pads and I'm hoping as this is a very popular venue in the Summer months.  There will likely be a fair bit of bait accurately going in and will fall short (where no-one fishes) and the bigger carp will feel a lot safer feeding there.
They will be less active, but hopefully bigger carp – 20+ I'm am aiming for!  Sticking with the same color & flavor pop up (being PPS & Pineapple N-Butyric acid) and large PVA bag filled with Catalyst pellets soaked in the syrup.
Which smells fantastic.  I will just have to be patient and see how it pans out.  There has been a fair few Carp showing along the far margin and I have decided that if by 1230 I've seen no action, I will move the right-hand rod closer in and see what happens.  Most of the carp showing, have been to my left and right, maybe the bait application, pushed them away and they could well drift back later.
Well that didn't take long after moving a rod close to the dead pads and the far bank.  I have only switched one over, which now tells me there are fish in the area and hopefully a bigger one off the pads more and over my baiting area.  I've had a liner that is very positive on the left rod.
For an hour and a bit I really thought the sun was coming out, but alas it's pouring down again.
With only twenty minutes left on the pack up clock, it certainly looks like just 1 Carp today and this was due to the location change.  I was really hoping the baited spot would produce, not going to give up on that one and will have the Deeper next time.  It's time to get mapping the lake as the pads have mostly gone.  I will stick some screenshots of my findings.
Until next time
Richard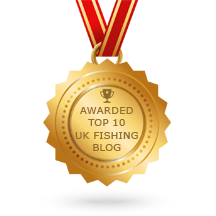 Please subscribe to my Video Diary
Consultant For
Sponsored By