Location – School Lake
Hours Fished – 5 hrs
Unfortunately, work was cancelled today, I have the buzz of a new lake to play on and loads of work is booked for next week, there was only one place to be.
In all honesty, I'd absolutely no intention of fishing the same swim again, but as I was swinging the car around in the car park, you're looking directly at the opposite bank and two fish appeared out of the water at the same time.  I'm sure you would agree, it would've been silly to ignore that and we all know how carp love pads when they are dying back.  I'm sure it's to do with the heat the pads give off when they are breaking down.
I've tried my best in taking photos from different angles, as there are only so many photographs you can take of the same swim.
I'm sticking to pop-ups in varying colours and flavours, trying to pinpoint their favourite before Winter sets in and they will be harder to catch.  I'm hoping the bigger carp will start to turn up as I have found this in the past on other club lakes.  The bigger fish need to maintain their weight and eat more than their smaller brothers and sisters.
I've also put more bait out than previously, to see how that affects my catch rate.
Just after 10am (I had just taken a big bite out of my Bovril butty), off goes the left-hand rod; with the first of a few takes today I hope.  After a short fight the carp was in the net.
Happy with that and the sun was coming out, it was looking like a beautiful day.  There was a good wind blowing and my brolly was needed.  The bait was out roughly in the spot where there were a lot of leaves on the water and it was pretty hard to see the difference between the pads and leaves.
It's just after noon and I keep seeing the odd fish tight into the far margin.  Unfortunately, they were a bit too far into the dead pads for me at the moment.  Once they start to die down a bit more, I will feel a bit more comfortable about putting baits there.
The carp aren't playing ball today.  Mind you, there's a pretty cold S/E wind blowing and the sun never made much of an appearance.
Much to my surprise, the right-hand rod was away at just after two pm with probably the smallest of the carp so far.  However, as I'm just in it for some fun at the moment, all are good and I'm sure the bigger fish will turn up.
That's it for today with just over 30 minutes to go, I would be surprised to get another carp, but you just never know.  Fortunately for me, there has been more carp action, can't believe it's home time so soon.
Until next time
Richard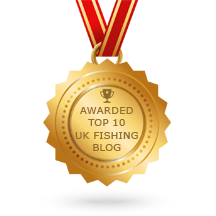 Please subscribe to my Video Diary
Consultant For
Sponsored By