Location – Meadow Lake
Hours Fished – 74hrs
After a very poor 24 hrs on the Estate Lake, I'm hoping for better.  However, with the weather as it is and after fishing here at this time of the year for a couple of years, its been incredibly hard going.  But certainly doesn't put me off.
When I arrived I was the only one here and had the choice of every swim.  This is always a bit of a mind-bender, as you only have yourself to blame if you pick the wrong swim.  By noontime, there where 2 more anglers on the lake, oddly in the only 2 other swims I would have picked.
The swim I have gone for is called 'Duck' and it gives me access to the big entrance to the sanctuary area.  Due to all the rain, the lake has gone up by about a foot.  The lake surface temperature has dropped to 12 degrees, the cold Northerly winds will swing round to an S/W and the pressure is due to drop, the downside is the rain is back, but there is a temperature change.
My real issue is to have faith in my plan and sit in the same swim all week.  I have spombed out a lot of bait at the entrance to hold them there if they come out or if angler pressure builds up at the weekend.  I sat for a long time this morning going over my options and a plan of action with the best opportunity for some lumps this week.  I'm going to find it hard to stay in the same spot, but I truly believe it will pay off by the end of the session – if not before.
Rod – 1
Is by the entrance to the sanctuary area and had been heavy baited.  I'm fishing a size 6 long shank, turned point hook tied to 25lb semi-stiff brown fin skin Ronnie rig style.  It has a 15mm Catalyst wafter with a 12mm natural Catalyst pop up, I would like the hook bait to stand out.
Rod – 2
This is on a lovely spot I found this morning with my Deeper Chirp, it's in a completely different place to where anyone would normally fish and I'm sure it's roughly where I've seen them show occasionally over the years.  I am also using the same rigs as rod 1 and they will be moved about if necessary over the week.  I've spombed out a small amount of bait to start with and will take it from there; if rod one starts to produce fish, I may well move both to the same area.
First day and night
The day passed with no action, but I was expecting this as I had led about, marked quite a lot and spombed out a fair bit of bait.  I'm hoping for a take overnight or early morning, but my plan could take a few days before any action, I'm in it for the long game this week.
Overnight I had no bleeps, heard a few carp crashing out and not too far away.  This has given me a lot of confidence.  I just need to locate their whereabouts in the swim, never easy in the middle of the night.
Day and night 2
It's a very fresh morning out here, with the wind pushing from E/N/E with a good cloud cover and no signs of any sunshine today.  I'm planning on leaving the baits where they are for another 24 hrs and not putting anymore bait out unless I get a take or clearly see signs of carp in another area.  It was good to hear carp last night, I just need to know where they are.
Just after midday, I decided I would change the hook baits on both rods, as it was clearly going to be hard going and a little variation may just make all the difference.  I will still stick with the Catalyst but just varying the color, pop, wafter, bottom bait, etc.
I also put 6 small spombs over each rod, after hearing the carp last night you're never sure that how much or if any bait was eaten.  But adding a small amount each day, you shouldn't over bait the area.  The angler in the swim opposite me, popped by on his way out and had a chat.  He had also blanked and had only seen carp over my side of the lake; which was very positive for me.
Day and night 3
Another night passed by with no action and it was time to move one rod onto another area.  This was going to be the close in rod, I was sure nothing had shown there and I fancied that the channel rod would still produce something.  So out came the Deeper and as the wind was pushing hard from the east, it was the perfect timing to drift it way out.  I was amazed to find a couple of nice features, but more importantly, fish in my swim.
That will do me for future reference and nice to find there are carp in the swim.  With the adjustment of a couple of wraps, I was right on top of them.  I did move the other rod for a few hours on to a group of fish in some weed near the bar to the right of me, but they were just not interested.  I will keep that in mind for another day.  Heavy rain was forecast, it was time to get the rods on the spot before nightfall.  After getting the Deeper out and finding fish in the swim, it gives you a good boost in confidence – you're in the right area.  I just need to get things right and they will pick my bait up.
Day 4
Wow, it's another blank night and I was feeling my chances were a lot greater than previous ones.  I had a single bleep; which was probably a big raindrop from the tree's above.  It certainly got the old heart racing.  I was then woken up by the swans having a feed in the margins.
Looks like another grey day – at least the rain has finally stopped, it's a few degrees warmer but that east wind is just not going.  It's now due to swing round to the South tomorrow morning.  Let's hope things start to pick up, it's getting hard to focus on staying here until Sunday.  I always struggle this week, the lake just shuts down for a period of time and then picks up in December.  I'd originally thought of going on the river this week, but the conditions just didn't warrant it.
I'm going to have to put a lot of thought and effort into the next 2 nights, in order to bank myself a carp or two.  If I'm not careful, I can see myself going home, it's pretty bleak; grey, cold, wet and after a few days, it does get to you somewhat, but sometimes you just have to throw the towel in and move on to the next session, it can be a bit counterproductive.  We shall see how the day and night goes.  If things don't improve I'm sure I'll be off.  I genuinely don't fancy moving swim, I'm convinced I'm in the right area and the carp are just not getting their heads down.  I just need the strength and the will power to hang on in these hard conditions.  This is a lot easier in the warmer months, but there's a limit to the amount of time you can spend in a bivvy, even with things to watch, read and listen to.
After a good walk around the lake and taking to another member who had come to the same conclusion.  The lake was clearly not fishing.  I also decided that my time would be better spent coming back and doing a couple of day sessions in areas inaccessible to night anglers.  This would clearly be more productive than staying on another few nights.
Let's see how things go.
Until next time
Richard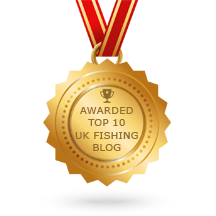 Please subscribe to my Video Diary
Consultant For

Sponsored By