Location – Estate Lake
Hours Fished – 24hrs
With the family away over half term week, I have 7 nights fishing and this time I have decided to break it up over 2 different lakes.  I will be starting off on the Estate Lake and then moving on to the Meadow Lake.  My thought process is that the Meadow has been very packed over the past few weeks and this weekend the clocks change, so I'm sure it will be the case again.  Which leads on to my next conclusion, give the lake a few days rest after the weekend would be a pretty smart move.  I would then arrive as early as possible on Tuesday morning but I will need to go via home to stock up on food and bait from the freezer.
So, Estate Lake was my first port of call and as luck would have it, there had been no-one fishing there at the weekend.  This gave me the opportunity to stick some more bait in on Saturday night, as the last time I had been able to prebait was Wednesday – after my short day session.  This was part of the pre-baiting plan; to gave them a break over the weekend.  It did allow me to bait up my swim before I arrived early Sunday morning after I had dropped the family off at the airport at 6 am.  When I arrived all I did was flick 3 bags out over the spots and set up my home with the least amount of disturbance.  This must work in my favour – unfortunately, the weather may not be, at least it's stopped raining.  The downside is that the pressure is going up, Northerly winds and proper low Autumn temperatures and a good chance of a frost.  This is why it may just work in my favour, fingers crossed and I will only know by the end of the week.
I'm in my normal swim; fishing the normal spots I have been baiting up over the past few weeks or maybe more.  My rods are on 15mm Catalyst wafters, all topped off with different colour plastic corn as I like to give the carp a bit of colour this time of the year.  They are building themselves for the winter months so they will be foraging more and with their inquisitive nature, I'm confident this will help me over this week's sessions on both lakes.
I'm just using PVA bag and no need for any baiting as this was done last night at around 6 pm.  There were signs of fizzing when I arrived which is a very positive start.  I may top the swim-up with some Catalyst boilies if there is no action today.  You never know, they could have mopped up all the bait.
As the day progressed a carp stuck its head out by the island, a couple moved about in the weed and I was feeling pretty confident.  The north wind had picked up, it was feeling pretty cold out and the maximum temperature was 11 degrees today, you could certainly feel the difference.
That was the best night sleep for a long time and not a single bleep on any of the rods.  I stayed up quite late and no signs of any more carp, the morning was just the same, so with that in mind and the thought of Meadow Lake, I was off.
It turned out that there was a very hard frost once I got out of the valley and away from the trees, the fields were just bright white, Winter had arrived.
Until next time
Richard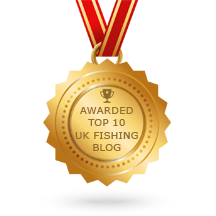 Please subscribe to my Video Diary
Consultant For

Sponsored By