Location – Meadow Lake
Hours Fished – 41 hrs
It's that time of the week again and I'm back out to the Meadow Lake and in the swim, I least expected to be set up in.  It was the best of the rest and commands so much water.  I could've easily set up in another couple of swims but would be near other anglers.  It just made sense and my daughter loves this swim and I tells me I will catch a monster from here this weekend. You never know!
Setting up was a complete disaster; lost marker float, two leads later and I gained the complete inability to cast accurately.  But we got there in the end.  I was very glad to sit down and chat with my youngest, who is down for the night.  Taking her helps me out, as I get here by 1630 and not 1830, as its dusk by 1900 hrs.
I wasn't going to do anything too different, I double-checked the spots for weed and got a good load of boilies and ground bait ball out over both areas.  I was using my Ronnie rig set up, but had changed over to finskin, instead of the fluorocarbon hook link.  I had previously dropped a few fish over the past few trips and decided that a change in hook link material was in order.  I was still using a snowman rig set up, with a Catalyst wafter with a 12 mm pink pop up, one was a Catalyst and the other a PPS.
Just after dark, a few fish showed in the swim and not too far away from my spots.  This was a real confidence boost.
With a few liners on the right-hand rod early on in the night, I was convinced it would rattle off, but no it stayed quiet for the rest of the night, which was very misty and damp.  The wind had moved to the North, it was due to be moving all over the place over the next 24 hrs and heavy rain was forecast overnight.  I was in two minds whether to knock it on the head; as you know, I generally don't get any bites on here when it's like that.  I'm slightly tempted to move into a bay area which is near, I may have heard carp in there last night, unfortunately, there is a day angler in there at the moment, so will have to see later on
After a morning thinking, I decided it was time to move into the bay area, there clearly are carp in here, who are still loving the remnants of the weed bed.
When I first arrived in the swim, there was a day angler on the opposite point so I found a couple of clear spots not to spoil his day.  I'd spotted a carp crashing earlier on and put a bag in that area and after looking at the Deeper lakebook, I could work out where to cast, with the least disturbance to the carp.
Both rods would have pop-ups on until I could get the Deeper out there later and find a couple of perfect spots for the night.  The wind and rain would be in my face tonight, which I'm hoping will stir them up for a few bites.
Just after 2pm, it was time to find the best place to pick up a bite from and after 15 minutes with the Deeper, it was clear there was plenty of weed in this bay, in particular, there was a channel between the very dense weed and another weed bed.  This channel leads into the bay corner and by the big overhanging trees, not an area to fish at night however a perfect interception route for any fish moving out into open water.  So I put in the last of the ground bait balls and 1.5 kilos of Catalyst boilies here.  There was still a thin layer of weed there, so the need for a pop-up was a definite.  I opted for both pink pop-ups, one Catalyst, and the second PPS.  It was apparent that it was a transit route out and I need to attract them not by bait alone, hence the pink boilies.
There is a considerable amount of weed in this area and I have a feeling it's going to be worth a few trips in here over the coming weeks.
The night passed with less rain than was forecast.  We must've been on the edge of the cloud front, there was a fair bit of light rain.
I was rewarded by a Tench on the left-hand rod at about 7am.  With clear blue sky, it was looking like a beautiful day was on its way, I am due to start packing up at 0830, which give me an hour and a bit to bag a carp.
Until next time
Richard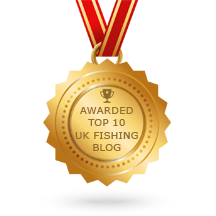 Please subscribe to my Video Diary
Consultant For

Sponsored By