Location – Meadow Lake
Hours Fished – 63hrs
I'm back in the swing of fishing again and very lucky this weekend I am able to fish 3 nights and catch up with Ian after the Summer Holidays.
Ian after just after 1030 and had a good look around the lake, he gave me a call with the options available.  It appeared that everyone had the same idea this weekend and had arrived down on Thursday.  We picked the area we felt was best for us.  I arrived down just before 7 pm and quickly baited up two areas which interested me.  I found these areas on the Deeper lakebook in the afternoon before the school run had been done and the kids had been fed.
As I'd arrived so late, I didn't fancy chucking the bait out straight away, so I planned to top the swim up tomorrow lunchtime.  The carp were responding to large beds of bait quite well at the moment.  I was sticking to my normal mixture but had added crushed hemp this time.  I would still be sticking to the large snowman bait set up.
My first take happened just after 11 pm to my right-hand rod and I played the fish all the way in.  It rolled on the surface just off and the hook pulled out.  Oh, that's just not funny.  If this happens again, I will soon start to be me paranoid, this will also not help matters.
With the rod back out there, I was in my bed and mulling over what had just happened and it's just one of those things that happen once every so often.  Just not to me in the past few years – I must have saved them all up until now!
Unfortunately, the night past with no more action for myself or Ian.  The conditions are still pretty good and a chance of a morning take.  The temp is due to rise up to 20 degree today and tomorrow, but the daylight hours are getting shorter.  I'm sure the carp will be aware, Autumn is underway and Winter is just around the corner.
We both rebaited between 1130 and 1300, we feel this is the best time to avoid too much disturbance to any potentially feeding carp.  The weather had turned hot and sunny as forecasted and the pressure would be rocketing up.  In our favor, there was a lovely breeze from the Northwest.
The night past by in complete silence and another sunny day arrived.  I felt there was no point in touching the baits until something happened, there is no real point in adding any more bait.  Ian finally managed to bank a carp (much to his joy), he'd been blanking over the past few trips – he was over the moon with this lovely.
26lb 12oz Common
The first night was full of fish crashing about and the second was the opposite.  I'm hoping that tonight will be the opposite again and I wouldn't lose another fish to a hook pull!
I was feeling pretty confident that all was on the mark and there was certainly still a good chance of a carp or two.
That just didn't happen and it was a blank weekend for me – but a brilliant social and a great laugh.
Until next time
Richard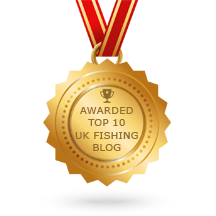 Please subscribe to my Video Diary
Consultant For

Sponsored By