With the heatwave over and we had a free weekend, I was down the lake just after 9 am with my two daughters.  We pitched up next to Ian under the big willow, there was no way I was sitting out in the direct sunlight.  There is an age thing where you become much more sensible and less concerned about catching at every cost; e.g baking yourself.
We swapped over sides this trip and I was on the tree-lined side of the swim but was keeping well away in the night.  In the daylight hours, I was going to try the small bay to my right, there is always fish in there.  It's a case of can you get them down on your bait or will they just relax in the upper levels all day?
I found a lovely gravel spot at the back of a hump, opposite to the channel which leads into the sanctuary area.  I placed the other rod on a silty area a few yards away and spombed out a good load of my mixture of Smokey, Catalyst, Hemp, Tiger's, etc.
With the sun setting, the wife had collected the kids, so I settled down and watched the carp showing themselves finally.  We were both extremely confident a bite would come to one of use tonight if not both.  Despite the show of fish, it was clearly not happening, not a single bleep to either one of us.  It was time to get the thinking hats on.  The weather conditions were spot on and a nice breeze pushed through the day.  I opted to put a bait on the right-hand bush.
There would be a good chance of a tench, but hopefully, the carp would push them off first.n  The other rod was left near the channel, but I had changed over to a bottom bait.  We shall see what the day brings.
With still no joy to myself or Ian, it was turning out to be another hard weekend fishing.  There was plenty of carp, but they were not interested in getting their heads down.  After watching the carp for a few hours moving in and out of the small bay to my right, I decided that I need to place a bait in the far corner of the tree line, to give me some chance of landing anything that decided to pick my bait up.  I recast the other rod, as I had opted for smaller hook baits, as a change in tactics.  If the carp were not really in the mood for feeding, smaller offerings were going to be better.  As there had been no forthcoming action, we both decided that any inclusion of bait into the swim would be detrimental.  Only worth bothering if we had a few fish over the Saturday night, fingers crossed this will pay off.
That turned out to be another blank night for me.  Ian, on the other hand, lost one at the net – we all know (full well) that sinking feeling.  The swim was full of carp as before but we just could not get a pickup, but that's fishing sometimes.  You try every trick in the book and they just will not play ball.
But I'm never going to complain too much, as a few days on the bank you should never complain about.
Until next time
Richard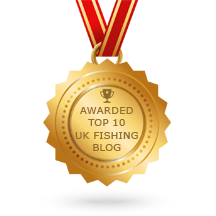 Please subscribe to my Video Diary
Consultant For
Sponsored By