With the school holidays around the corner, I just have to take every opportunity that I can.
When I arrived, there were two other anglers fishing.  When I spoke to them they were off within the hour and I really fancied those swims.  It's funny but I don't like jumping in behind people – if I had arrived 2 hrs later I would have never known and probably gone in one over them.
I made use of the extra time and had a good look about, I didn't see much at all.  The anglers in the swims where very fourth coming with how they had gotten on.  In fact, everyone is happy to share information on this syndicate and happy to pass on locations where the fish have been showing, etc.  They are all a great bunch, all happy to help each other and this is how it should be.
Well, I just had a feeling about this swim and really fancied fishing it.  Armed with the Deeper and my marker rod, I had a play about.
There are certainly a few fish about and with me being in two minds what to do, a nice lump stuck its head out on the far tree line.  Okay, I better pitch up here.  I wasn't going to be casting anywhere near that far out, but it gave me confidence that there are better fish about in this part of the lake.  Oddly, it's opposite nearly to where I fished on Friday night.
With a couple of nice spots found, the spomb was being blasted out and a nice load of Hemp, Tiger's, Catalyst, Smokey boilIes were out there.  Using the same tactics as before, no point in ever-changing anything that's working well.
I then set about getting the bivvy up and as I hadn't managed to dry it out from Friday night's trip, it was going to be fun.  All sorted, the coffee was on it and was time to sit back and enjoy the wonders of nature.
Morning arrived – no fish or no bleeps in the night, it came as a shock.  These things happen, these fish feed in the day time.  A nice overcast morning was forecast and I'm the only angler on here at the moment, I'm still very hopeful of the last few hours.
It was not to be, this time
Until next time
Richard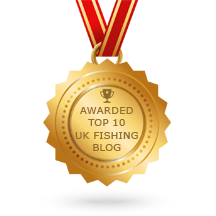 Please subscribe to my Video Diary
Consultant For
Sponsored By