With the weather conditions still spot on, I had to squeeze another night in.  The pressure was low and there was a good bit of wind & rain along with a nice southerly breeze.  The downside was it was the weekend and the pressure was back on the lake.
My swim choice was pretty limited by the time I arrived and soon settled on the swim which had given me 3 runs the other week, struck into thin air.  Nice.
I was quite lucky and there was a break in the weather ish, just light rain.  I set the bivvy up first, then set about the rods and other bits.  After leading about over the same spot as last time and with the strong wind blowing this side of the lake, it would be pretty settled and hopefully, the carp would head over this way.  In general, I'm not too far away from where I was fishing the last time and may benefit from the other angler pressure.
I've spombed out a good load of bait over a small area and flicked a Ronnie rig set up (with a small bag on each filled with Betafin and Catalyst pellets), a Catalyst wafter with a Catalyst pop snowman style.  Both rods are in the same area, just 1 wrapped differently.  I find this method very productive.
The first take happened around 4am and in a lull in the rain, which is always a bonus.  A pretty undramatic fight insured for a fair time under the rod tip, there was no way this fish was coming up to the top any time soon.  I just had to perch on the edge of the gravel swim with my toes in the water taking my time and play the carp out.  At first, when I first picked the rod up, I didn't think it was that big but as time drew on, it was clear I had an upper 20 or another low 30.
27lb 12oz Common
Perfect, I was well happy.  As dawn was fast approaching and to stand any chance of getting any more sleep, the rod was soon back in the water and my head on the pillow.

The rain faded away, the cloud disappeared and the sun shone again.  This may probably the last bit of rain for a few weeks, but very well needed.  It's not far off packing up time and I'm happy with the result.  It's also the first carp I've had in the dark, in this swim.  All the previous ones have been in daylight hours.  Time to get things sorted out and head for home.
Type error on the weight
Until next time
Richard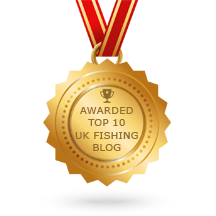 Please subscribe to my Video Diary
Consultant For
Sponsored By