After a long message exchange with Ian, we decided we better get back on the Airfield Lake before it's too late, as the school holidays are just around the corner.  I thought that it was a great idea.  With that in mind and not wishing to turn up blind at the weekend, I just had to do a reccy trip during the week.
I was a bit late arriving than I hoped for but at least I was there.  I had a quick look around, the wind was pushing hard on this bank.  A few carp were crashing on the small bay to my right, with the odd fish on the surface.  This had to be the swim.  I had a good view of a fair percentage of the lake, it was also a good spot for watching the lake tonight and tomorrow morning.
As I had mapped this swim with the Deeper and also fished it a fair few times, I knew where my baited needed to be.  However, I still got the marker rod out as a double check to where the silt beds were and to check the depth.  You can easily end up in 2ft of water when its best to be in 4ft when the swans come to visit!  I spombed out 4 loads over each area, put a bottom bait on one rod and the other with a wafter.  I settled down to watch the lake and eat my packed tea.
It was some time around 2am when the left-hand rod bust in to live, in the way that only Airfield Lake carp do.  I was fast off and somehow facing into the brolly which caused great confusion for a few seconds as the buzzer was still screaming away!  After what felt like an eternity, I was eventually by my rod and pulling into a low double figured carp who was still heading out like a torpedo in these shallow waters.  It was brought under control and after a poor attempt at running away in the margins towards the reeds, it was safely in the Nsr50.
With the fish safely returned and the snaps done.  I set about recasting the rod and got my head down for a few more hours.
There were fish all over the place most of the night and first thing in the morning.  They were still going when I headed for home.
Until next time
Richard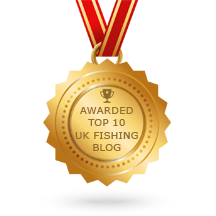 Please subscribe to my Video Diary
Consultant For
Sponsored By