After a fabulous weekend away with the family and a change in the weather conditions, I did a quick turn around and was heading for the lake.
I was really in two minds as whether or not to go to the Airfield Lake.  It had been a few weeks since I was last there.  The problem is that Meadow Lake is full of anglers at the moment, so I just had to have a drive around.  There was no way I was fishing the same swim as before; unless they were going crazy over that side.  The wind had picked up nicely and there was a cool fresh breeze from the SSE and I decided if one of two swims were free, I would go and see if I could find the perfect spot.  If I hadn't had any luck after an hour, I would head over to the Airfield lake for a look.
The first swim I arrived at was taken, so I popped down and had a quick chat with Jack.  I then headed on to the next swim which was free, as luck would have it.
I parked up, got the Deeper Chirp out and proceeded to see what was out there.
There was clearly too much of the horrible silkweed about which had caused me no end of problems last trip.  I just had to find a harder area and with a bit of perseverance, I finally did.
I quickly got the marker on the spot and sure enough, there was hardly any weed.  Also, the bottom was quite hard, this will do me.
I spombed out my usual mixture of Smokey, Catalyst, Hemp, etc. as I hadn't found any other suitable spots and this area was quite large.  I opted to put both rods out there, one with a Catalyst wafter and the other a Cat pop up.  I wasn't fishing to far out or even along the tree-lined margins, but I still set up very close to my rods, as you can never be too sure with this carp.
That was one of the most disappointing nights for a very long time.  I had 3 takes and connected to absolutely zero.  They were nice slow takes, the bobbin was right up and the tip was bending round, my best explanation is there is a trailing carp in that area.  My hooks were still sticky sharp and I have not changed anything about my rig, etc.  It becomes very frustrating on situations like this, the first two happened before 1030 at night and the last one at 6am.  I was laying in the bag watching as the bobbin pulled up and the tip bent round, not that much, the line was pulling off, I picked the rod up and thin air again.  I was lost for words and pretty downtrodden at this point.  The geese had been pretty active since first light, so not much sleep was had, the sunrise was lovely through the fog/mist.
Until next time
Richard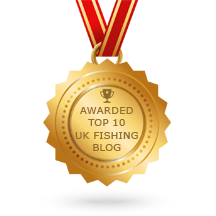 Please subscribe to my Video Diary
Consultant For
Sponsored By