It's the weekend again.  Time for a few night's fishing.  Unfortunately, with the weather this week and having to move work about, I was unable to fit a day trip in.  Which is a shame, as I have missed out on a fair few this year.
e
I met Ian down the lake just after midday.  I had a good look around the available areas and settled for a spot at the end of the spit between the big lake and the middle pit.  This gave us both plenty of options.
For my left-hand rod, I found the drop off which is situated by the channel that leads into the middle lake.  I have been sure that the fish drop down as they pass through here.  I simply have never put a bait there yet and it feels worth a go.  The other rod is on a gravel bar – well more of a strip than a bar.  It leads off the island in front of me across the lake in front of the gap.  This goes into the out of bounds part of the lake and then runs to the tree-lined margins to my right.  This is just full of snags and way too dangerous to put baits to close to.  There is an area nearby which I may move the bait to if the other spots aren't productive and I see fish there.
The first night passed by with no action and I was up at first light.  I recast the distance rod with a fresh bag and ended up moving the margin rod.  I got invaded by ducks that just would not stop diving down.  After an hour of this, there was no choice but to find a nice spot along the tree-lined margins to my left.  However, I wasn't sure whether to leave the rod there for just the day or not. Will need to think more on that.
During the day, it was mostly rain showers with occasional sunshine and with a nice strong south westerly wind.  Great conditions for fishing, fingers crossed for an afternoon or early evening take.
I'm very surprised to say that the second night passed by without a twitch either.  After the rain finished, the sun came out and it was a lovely evening.  There was a clear sky and a full moon, all flat calm and not a sign of a carp.  The rain arrived again in the early hours and is still going as I write this!  I've just changed my hook bait for fresher one and gone a bit brighter pink and yellow, odd choice as they have not worked for me here before.  I'm not catching on the standard baits that have worked for me, so you need to think out the box a bit sometimes and give it a shot.  I did hear a few more fish crash this morning but they were way off through the gap in front of me (in the sanctuary area).  But they are moving!  And a moving fish is clearly using energy and will feed at some point.  The ducks are back on my margin spot clearing out the last of the bait, which proves there has not been any fish feeding down there.
The big decision today – move, stay, go home.  My thought at the moment is to stay as this is a great area and the carp frequent it a lot.  I just need to get the right combination location, bait, etc and one will slip up.
Well, the big decision was made.  I moved lakes on to Meadow Lake into a swim called The Gap.  There had only been 6 people turn up for the draw on opening night, one had gone home when I arrived.  As far as I can tell, there was only one fish caught.  With that in mind, I only spombed out a small amount of bait, which was hemp, tigers and 12mm Smokey and Catalyst boilies.  One rod was fished with a Catalyst wafter and the other a PPS pop up.  Both rods had small bags of the same mixture.  My set up was a Ronnie rig made up of a Size 6 SF turning point hook, tied to 25lb semi-stiff Finskin and a 3oz monster leads distance lead.
Let's see if the change of location brings me some luck and a nice lump on the bank.
It was about 0140 when my right-hand rod burst into life, with an absolute screaming run.  I was into a very hard fighting Meadow Lake carp,  After a long battle back and forth along the margins under my rods tips and even a couple of good runs back out into open water again, I finally had the carp beaten and it was in the Nsr.  I was well pleased.
20lb 13oz Common
Worth all the hard work of moving lake and setting up again.  With the bait back on the spot, I settled down to write my account of what happened.  I got in the sack and listening to a hedgehog snuffling in the bushes to my left.  I can't quite believe the amount of wildlife I have seen and photographed this weekend.
I hope I am in with a shout of another fish or two.  There are plenty topping out there.  With the wind and it being overcast, it's impossible to really tell where they are, but I am pretty confident they are not too far away.
The next bite was from a tench just after 5am.  With the odd fish showing in open water, I was hopeful of the other rod going off and was starting to wonder about getting the other rod out there.
It's the last hour and a bit, the conditions are still perfect.   I have put fresh hook baits and bags out, I feel there is a good chance of another bite.
It's been a very enjoyable 3 night's fishing and a hard choice to move lakes.  I really love the Airfield Lake, but it's just not producing the fish at the moment.  This is a real shame.  I will be heading that way again on my next trip.
Until next time
Richard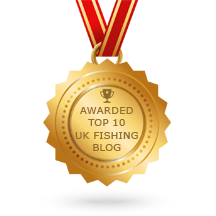 Please subscribe to my Video Diary
Consultant For
Sponsored By