I'm back on the Airfield Lake again this weekend and my youngest has joined me for the first night!  After a quick look about in the rain and as I like to keep away from other anglers, I ended up in the same swim as my last trip here.
The same tactics were used as before and within 30 minutes, I was into my first fish.  I was completely unable to control the fish from kiting to the right.  I never even got one foot in my waders and the carp pinged off.  By far, not the best start to the weekend but hopefully plenty of time to change things around.
After a lot of thought, I decided it's best that I move my rods more to the left of the swim.  This will give me more time to get any kite-ing fish under control we hope.
It wasn't until just past 3am when the left-hand rod, ripped into action.  After a very wet and windy battle, a small common was in the net, no pic or vid – way too wet and windy for any of that.  I quickly recast and got back into bed.  I soon warmed up and drifted back to very restless night sleep, with the wind and rain pelting down.
Looking like a different day and no signs of the storm, there's going to be the odd shower today, mixed with a bit of wind.
The morning past by with a few heavy rain showers.  The wife arrived to collect the youngest just after noontime.
After spotting a few fish topping, I knew they were in the area, just not quite on my spots.  With this in mind, I spombed out about 5 loads over both rods, in the hope of holding them and picking up a few more this afternoon/early evening.  I cast fresh bags/hook baits out about 1430, all set for later on.
I recast both rods for the night (just after 8pm) and with still no action, I was really starting to wonder if these carp do not like heavy rain in shallow water.  The fish sightings had slowed down somewhat, just have to hope that the night brings about a change.  It's only going to be 8 degrees, which is probably the coldest night for some time.  The surface temperature was 18.2 according to the Deeper this afternoon, be interesting to see how much it drops down by tomorrow morning.
What can I say?  That was the best nights kip I've had for a long time, not a single beep and woke to the alarm clock – which I set just in case when I need to be home early.  Lucky I did.
It was a complete shock and surprise as there had been a lot of fish activity late on in the evening.
Until next time
Richard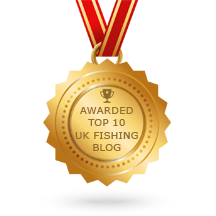 Please subscribe to my Video Diary
Consultant For
Sponsored By