Its been far too long since my last trip.  But with kids birthday party's, spawning carp and a week camping in Wales, time soon passed and we are in June.  There are only 7 weeks until the school summer holidays.  Time to get the fishing hat back on.
After plenty of walking and looking, I decided that the best area was off one of the island swims.  The southwesterly wind had clearly pushed some carp down into this area.  As I didn't wish to disturb the fish, I only cast out two small bags into the area the carp were showing themselves.
I set up both rods with a helicopter-style set up, a Ronnie rig made up from the SF end tackle range and would use pop up on both.  I was just to try and catch the carp's eye.  I would then switch one over to a wafter later on for the night.
It was just before 3pm when the left-hand rod burst into life.  As always, the carp kite left as hard as possible in this swim.  Doing their best to get around the small island which is to my left and leads into a small shallow bay area.  This links to a channel which runs around the back of the island.  It was fighting hard and gaining ground on me fast; it's the shallow water and their big tails.  You just can't spot them.  At one point, I was convinced that the fish had come off, but it was charging towards me.  I think it was heading for a small gap between the island and my bank.  At this point, I was knee deep in the water, the rod tip hard on the bottom and I was just holding on trying to gain line.  Finally, it was under the rod tip, but no sooner there, it was off out into the lake once more in.  It attempted to repeat the process – no way.  I was very lucky the first time and didn't fancy my chances a second time.  I managed to turn the fish, gain control and slipped it nicely into the waiting Nsr.
15 ish Common
It may not be a monster, but these carp can give a brilliant fight.  This is what it's all about.
With the rod rebaited, I was very happy, particularly as it had been a long time since I had had a take in daylight hours from here.  Let's hope there are more to follow.
It was just after 8pm when the next take happened.  I was more prepared for the fish heading left this time and had control a lot sooner, which was a great relief.
14 ish Common
A bit smaller than the last, but very welcomed after my long break.
My next take came just after 3am.  It was a similar size to the previous 2.  Interestingly, it didn't try to head for the tree this time (just as well), it headed into open water.  No pictures this time.  With the rod re-done, it was back in the sack.  Just before 5am, I decided it was worth rebaiting the right-hand rod.  I had not heard a single beep on that rod.  It goes to show that if you're not quite in the right spot, they will not pick your bait up.  With that in mind, I moved that rod more to the right.
It was certainly worth re doing that rod, as it was off within half an hour.  My 4th fish of the night was landed, also a similar size to the last.  It's amazing how this lake changes after they have spawned each year.  I am 100% sure the high water temperature caused a lot of the blank nights last year.
Well, its nearly time to head off home and I am not going to moan about this trip out.  It had been a few weeks wait and it's great to get amongst some carp again.
One in the NSR
With pack up underway, the right-hand rod was off!  Straight out into open and then processed to kite right.  This was a big issue, as there is a nasty tree in the water here.  I tried my best and thought I was going to be ok.  But NO, it found the tree and underwater branches.  I put the rod on the rest and opened the bail arm – in the hope the fish would find its own way out and continued packing up.  No such luck.  It was time to strip down as my waders were not on the car, oops.  I grabbed the rod and my weighting pole and headed out up to my armpits, but still couldn't get out far enough.  I put some more pressure on from different angles, this was a pointless exercise.  I had no option other than pull for a break, which I really hate.  I was confident the carp had already shed the hook.
I bit of a disappointing end to a very good trip out.
Until next time
Richard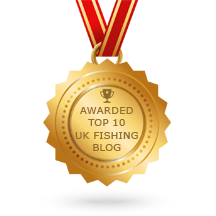 Please subscribe to my Video Diary
Consultant For
Sponsored By