This is my last weekend until June as there are family things coming up.  Which for once will fit in perfectly, the weather has not been that great the carp on the syndicate, they are still yet to spawn.  On this lake, it normally starts in the first few weeks of May.  They had a day at it but it didn't really burst into life.
I am out with Ian and this trip has also doubled up as a social.  This also gives me the chance to set up early, head back home and sort the kids out.  This will save the big rush later with the tackle.  This way we can meet up, sort out the right swim, find some perfect spots and get all the noise done by 2pm.  All I need to do on my return is flick the baits out on the spots.  It just couldn't get any better.
I knew the swim quite well – I had fished there a few times in the past.  Also very recently had a nice lump from here.  The lake is fishing very slow at the moment and all the lakes are getting very clear.  This is very unusual for here and a big surprise.  Surely this affecting everyone catch results.  We felt that the bottom lake was more colored than any of the others.  We decided this had to be our best option.  It was the deeper water and away from everyone else, this could hold the key to a fish or two this weekend.
I baited an area 70 yards out with 3 kilos of 12mm Catalyst and Smokey jack, combined with a 2 kilos bag of Hemp & Tiger nuts.  This would be sent over an area large enough to get two baits on over each night.  I was then going to move one rod off to the tree line by a small bay during the daylight hours.  This was clearly not an option at night, as there was no way I was going to be on my rods in time to stop the fish from kiting round to my right and into another bay area.
There was no action for myself or Ian over the night.  I was up early and moving my rod to the tree's, in the hope of a day time carp.  By mid-morning there were still no signs, it was time to get the Fishspy out.  With the clear water, it was ideal conditions and was very surprised to find that an area of gravel was more like an area of boulders and more suited to fishing with a pop up than a bottom bait or a wafter.  Some information to take back home from this weekend's fishing trip.
By the middle of the afternoon, I was surprised that my right-hand margin rod had not gone off; the previous evening I had dropped a few handfuls of bait along there.
Well, that was a complete letdown, with not a single beep.  Time for a change of tactics I think.
It was a lovely morning to pack up and get everything dry from the morning dew.
Later on that afternoon, I received a message from another syndicate member that the fish had started to spawn.  This means a two-week break for them from my side.  I feel it's best to let them get on with it and then plenty of time to recover.
Until next time
Richard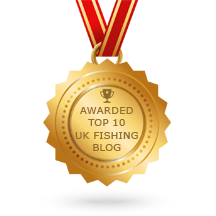 Please subscribe to my Video Diary
Consultant For
Sponsored By