A big storm was moving through over the weekend, the likelihood it would stir the carp up.  I just had to get myself down the lake.  As luck would have it, a friend could collect my youngest from school as well as their own.  I got down the lake by noontime.  This gave me the opportunity to look around for a bit and I got myself sorted by 2pm, fingers crossed for an early evening take.
The main lake was pretty busy in the areas I fancied and I wasn't keen on sitting out in the open with 50mph winds forecasted!  I needed a bit of shelter to protect me, I still really wanted to be in the thick of it.  The carp had been showing signs of spawning the other week – proper signs such as thrashing about in the reeds and full on chasing each other.  It amazes me that with the carp in this lake spawn in the first few days of May.
After a good look about, I ended up in the same swim as my last trip out for no particular reason other than it felt the right place to be.  I put both rods on the right-hand spot I had found as I was planning on moving one of the rods to my margins midmorning Saturday, as the wind would be pushing onto this bank.  It would give me the opportunity to bait up a spot and just leave it be until tomorrow morning (unless I had a fish).  I would not put the rod out next to the other one, in fear of spooking any other feeding carp.
I am sticking to the same tactic as previous sessions as there is no point in changing anything when it's working for you.
With that all done it was time to sit back, relax and get my book out.
The night was incredibly rough and pretty cold.  I made the hard decision, I would head home because I didn't feel the conditions where right and I could make better use of my time later on in the year.
Until next time
Richard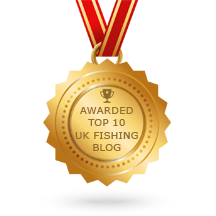 Please subscribe to my Video Diary
Consultant For
Sponsored By