What a complete change in the weather!  For a change, a very nice bank holiday weekend.  I had the opportunity to slip a quick over-nighter in on the Sunday night.  I was soon sorting my tackle out and putting away the winter sleeping bag.  I didn't arrive too early as it was 24 degrees out there and the carp would just be sunning themselves.  These conditions can be very productive as you know, the carp are most likely to feed at night, which narrows down the window of opportunity.
In all honesty, I'm not a fan of hot weather, especially when 4 days ago it was only 12 degrees, I just don't cope very well.
With that in mind, my swim selection was in the cool wind and under some trees (that's not too hard on this lake).  As it had been some time since my last trip to this swim, out came the deeper.  With a little breeze across the lake, I soon had mapped out a large area with minimal casting and zero disturbance to the area I was looking at.  I soon found a couple of perfect features.
I found two very simple areas – 40 yards apart and with smoother areas either side.  I just fancied putting a bait amongst the peaks and troughs which were very clean.  As I always run the marker rod over each area with a small gripper lead – to check for any chod.
Both areas were baited with 12mm Smokey and Catalyst and a mixture of Sf pellets.   I was fishing 15mm Smokey Jack wafter with an Evo fake corn one in white and the other in pink, just to add a small amount of colour.
It was time to sit back, watch the world go by and have a glass of ale.
The burning sun started to fade away, the wind dropped and a stunning evening watching the sun go down was had.
Darkness fell, I settled down into my bag and soon fell asleep only to be awaked by an absolute belter of a take, with a very hard fighting carp on the end.  It was clearly determined to reach the snaggy tree line to my right and after numerous attempts with a few close calls with the branches (just to my right).  You know that twang you get when the line pinging off and you breathe a sigh of relief once it's safely under the rod top.  It was still permanently heading right, it would just not give up until it slipped into the NSR!  I did breath another sigh as I knew it was going to be a pukka fish.
32lb 1oz Common
I was well over the moon.  After sorting out the photos and get the carp back, I sat down and reflected on the fight, how lucky I was and wise these fish are.
It was time to get my head down again and all to soon pack up time arrived.
That's was the only take if the night, but certainly nothing to complain about.
Until next time
Richard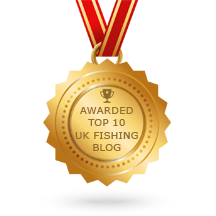 Please subscribe to my Video Diary
Consultant For
Sponsored By