At my eldest daughter's request (honestly) she wants to come fishing on the Estate Lake over the holiday, not to fish, but just to have some Daddy time.  She had taken a bit of interested in the lake since I joined and had come along to check the otter fence after the storms in early March.  She had helped to get a fair few of the sticks out of the lake which had fallen in.
We'd been for a walk around the lake the last two evenings and baited up an area where I believed I had heard the Carp topping in the night on my last trip.  A fellow syndicate member had also informed me the same thing, as we are sharing information about the lake in the hope of understanding their feeding patterns quicker.
We had a quick look about and I felt this swim would give us the best option.  There were absolutely no signs of any carp, clearly, they did not like the rain.  I was hoping that it would put them down and get them feeding, I hope this will be the case over tonight.
I placed my baits in a lovely hole in the weed it was nice and clear.  The other off the side of the island where I had previously seen carp and it is most likely a patrol route.  Both rods had large bags filled with a mixture of Catalyst & Betafin pellets, which I soak in the Betafin liquid.
Hook bait-wise, I opted for a Smokey Jack wafter with a white Go2 wafter on top and a single Smokey Jack wafter on the other rod.  Both set up on Ronnie rig with lite leads to keep the noise down when I recast, as I would just be dropping the leads back in with no bags.  I felt that keeping the disturbance down would help me catch another fish, once I had caught the first one.  I put about 6 handfuls of 12mm Smokey and Catalyst boilies over each spot.
The rain continued until after dark and once it stopped, I had a liner on the left rod.  Hopefully, it will mean that the carp had found my baited area.  But that turned out to be the only action and the buzzers fell silent for the rest of the night.
We here not due home until just before noontime.  I was really hoping that they feed at first light and up until mid-morning, the forecast was for sunshine today, but it was overcast first thing.  They clearly loved the sunny days,  would they be back on the top sunning themselves?  I really hope that I would pick one up by then.
It was not to be.
Until next time.
Richard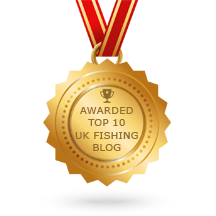 Please subscribe to my Video Diary
Consultant For
Sponsored By