With half term upon us already and Spring ever closer.  I am on the bank for the week.  I'm not sure if it'll be the lake only or some river fishing, but after spending a good two hours looking and thinking, I settled to start in this swim
My thought process is, the fish have been feeding in the main lake and sanctuary area, which has produced some very good fish, but I think they have drifted back into the sanctuary.  I'm hoping with the news that a few fish have been picked up in the day swims over the past 3 days, more anglers will follow and hopefully push the carp out of their hidedy holes.
I'm fishing my right-hand rod off the gap, as I need to make sure I can get to the rods before the fish makes it to the channel!  The left-hand rod is out in open water, but up against the drop-off of a bar which runs along towards the entrance to the channel.  If the first bait doesn't tempt them, just maybe the other will?  I have baited up with a mixture of crushed hemp and chopped boilies, all soaked in the catalyst particle syrup over the past 4 days.
I have gone for Miracle Berry & Caramel cream wafter to start with.  I will be playing around a bit in the hope to tempt them.
The night passed with a few liners and I heard a couple of fish crash out around 1 am.  I stayed up until around 3am listening, watching and hoping.  I was up just before 7am and recast the right-hand rod into the spot I like to fish in the day time.
There is a band of rain passing through this morning and it should be brightening up later on today.  There will be some sunshine to warm up the lake, the surface water temperatures are between 7 / 8 degrees.  Unless I see big signs of fish movement in another area, I will stay put for another night and then probably move.
The rain finally stopped and I rebaited the swim just before 2pm with hopefully a good chance of an afternoon take.  I've not seen or heard any carp so far today but with the liners last night and hearing a carp or two out in front of me, it's worth another night.
I had a friendly robin in and out of the bivvy most of the morning.
I recast both rods with fresh PVA bags filled with crushed hemp and chopped catalyst boilies.  This time, both rods are on catalyst wafters with a Go2 8mm wafters tip.
All set for the night.  I discovered a tangle on the channel rod that had been out all day.  I'm not 100% sure but it looks like it may have been done by a carp, which was very frustrating going into my second night.
There was a very nice sunset and the mist was rolling in across the fields, all set for a very foggy, frosty night.  Just after 2 am, the left-hand rod gave a few beeps and the bobbin pulled up tight to the rod.  I was straight into a nice fish kiting towards the small bay and overhanging trees to the left of me.  The bolt was thwarted and it was under my control for a small amount of time, before it was off up the right-hand side of the swim.  It nearly picked up the other rod, it gave a couple of bleeps I was happy to get away with that, as I fish with slack lines.  It doesn't have any negative effects on my bait presentation.  The fish was back under my control and up an down the margins under the rid tip for what felt like ever, until it finally slipped into the Nsr.
Nice start – 26lb 5oz common.
I soon made up another bag, got the bait back out on the spot and I hoped the next one will not be far away.  I got a brew on and started to write my blog.  I love to do them with it all fresh in my head and it also gave me some time to consider my options regarding change swims.  It was clear that I had caught at a very similar time of night when I had heard crash the night before.  Was this a sign that there where carp out in open water and not so much in their sanctuary area?  It was time to ponder.
Well after some 2 or 3 hrs, I have decided to move swim in a hope that the fish are more in open water.  I believe they are and the weather condition is improving.
Well, what can a say about last night?  It was all looking pretty good.  I found some perfect spots and even had fish crashing nearby and then Man Flu kicked in.  With hot and cold flushes and insane coughing all night long.  Sorry to all other anglers about.  I had some pretty freaky dreams I was completely all over the place.  Despite feeling like I was up all night, I did hear the odd fish. I was probably in no fit state anyway.
With Ian arriving at about 10am, I needed to get some tablets in me.  You probably think I am crazy, but there is not much difference being ill at home or down the lake.  I find with a head cold, fresh air is best but I'm not sure about the coughing.  Once I have had the sweat, I generally start to recover, we shall see how this pans out of the next 24 hrs.
I've decided to say another night, as there will be no difference if I am at home or down the lake.  After last night's lack of success and no signs of carp, I have put on a miracle berry Wafter and a pink pepper squid wafter, I've not topped up the swim with any more bait, as I don't feel there is any point at the moment.
Just before 10 pm, the right rod was away and it was a Tench of about 2 lb.  Now, if they have awoken, the carp must have done.  Sure enough, just after midnight, I was into my second fish of the trip and it pulled the scales round to 21lb 5oz
I was very happy with that.  I was also getting a better nights sleep than the previous one, this is definitely a help to my man flu.
My next take happened just after 4 am with another hard fighting common.
22lb on the nose
After I rebaited the rod, I stuck about 30 boilies, in the hope of holding the fish.  I certainly will chuck more bait in the area tomorrow day time.
Morning arrived at the sound of the geese pairing up, which is not what I need.  But it's certainly a sign Spring is on its way.
My third twenty of the night/morning came on the right-hand rod again and to the Pink Pepper Squid on a Ronnie Rig set up.  This was certainly upping my confidence and I was soon up the shop for extra supplies (for the next few days).
25-4 Common
I also took this opportunity to put some bait in the swim as I hadn't done since I moved in here on Tuesday.  But with a change in the weather and my results last night, it just had to be done.  I was still only using the crushed hemp and chopped catalyst boilies mixture that I had made up.
It's now Thursday and Ian has gone home for a go after the Pike tomorrow.  I am so glad I stayed last night (despite man flu), thankful that Ian made me see since that I would be no better off at home or down the lake.  I would never have had those fish.  It's funny how a simple choice can change things.  I'm now the only one on the lake but am sure with this weather, someone will turn up tonight and there will be a fair few here at the weekend.  I'm going to leave the rods as they are tonight and see how things pan out, as it's still Winter and the water temperatures are still low.
The day passed with no signs of any carp or angler's until just gone 7pm.  The first of the weekend lads arrived and pitched up 3 swims down from me, near the end of the point which goes out into the lake.
My next take didn't happen until the early hour's of Friday morning, with my fifth 20 of the week.  It was another hard fighting common which was taken on the PPS.  I had been very successful in the testing stage and the final product has become very successful as well in the Winter months for me.  After a brew and a listen out for any fish, it was time to get my head down again.
22lb 4oz
Just before 03.30 am, the right-hand rod was away and after the easiest of battles, the fish slipped into the Nsr.  However, when it came to the photography part, this lovely mirror had other plans but I finally won the day.
20lb 4oz
And a stunner as well.
I drifted back off to sleep listening to the odd fish crash out.  As the fog had arrived, I just couldn't work out where they were!  My next take occurred just before 7 am and it was very nice to play a fish in the daylight again.  This carp also came pretty much straight into the net and played up good a proper on the mat – I never like that.  I managed to get a couple of pics and a tiny bit of usable vid footage.
23lb 6oz Common
This trip so far has been hard work with being ill and I really should have gone home, I am sure.  But this would have not resulted in me having the last two nights of great fishing.
After my last carp, it was closely followed by a bream.  At this point, I had both rods on the bank and I was pretty keen to get them back into the water.  Due to it being feeding time and this can last until 1030.  I will be most certainly be staying until Saturday morning and I will be using up the last of the bait.  This had played a key role and I just hope that the extra anglers who are on for the weekend don't affect my catch rate.
I've topped up the swim with the rest of my mixture and sorted out some more fresh rigs.  I also found some more PPS that I had boosted with the spray some days ago.  I did this a bit early today due to the influx of the weekend anglers.  Fingers crossed that my area will be one of the quietest and the fish may get pushed towards me. It may even be that elusive 30+ who drifts into my baited area later on tonight.
The first take of my last night came a lot early than any of the previous nights and was a complete surprise.  It was my second mirror of the trip.
18lb 13oz
The next take came along just after 11 pm and also was a nice mirror.  The takes are pretty full on, but I can more or less reel them straight into the net.  Whereas the other nights, they would be under the rod tip for some time.
18lb 8oz
The last morning has arrived on a very ridiculously hard week – from the point of the weather which was not quite what I was expecting and to top it off having man flu.  This didn't help.  The fishing just took off on the 4th night and continued into the early hours of the last morning.  This turned my trip into a one of the most memorable where effort certainly did equal rewards, in the form of 9 carp, 7 of them being twenty.
I do need to go home and today is the day.  With luck, if I get bites in the day time, it will give me the opportunity for a nice slow pack down!
I hope you enjoy reading this blog, it may vary from past writings as my head felt it was in the clouds all full of cold.  I very much like to write as it happens, it brings out the passion of the moment from a hard time to overwhelming moments.
Until next time
Richard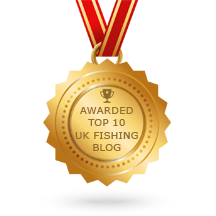 Please subscribe to my Video Diary
Consultant For
Sponsored By