After my dentist's appointment this morning, there was only one thing to do and as I was driving past the lake on my way home, it would be rude not to!  So, with that thought in mind, I already had the Perch tackle in the car and was soon set up just before 10am in my first swim of the day.
It was not long before I had some action, which I promptly lost in pads, a bit rubbish.
After I recast, they were soon knocking the line again and it was not long before I had a nice Perch in the net.
Not bad and just under 2lb.  I took this opportunity to bait up with some more prawns and then go for a walk with the lure rod to give the swim a break.  With no joy in the next two swims, I returned after 30 minutes and flicked the baits back out.  If I had no knocks within the next 30 minutes, I was planning to move for the last hour, but I had a feeling there was more to be had from this swim.

My rig is very simple, just a free running lead with a small buffer bead tied to an Sf Longshank Turning Point Hook.

Despite my best efforts, I just couldn't tempt another Perch to pick up a bait.  I had a few nibbles and played about with the lure rod.  However, it was extremely nice to be out in such lovely weather today, a nice warm breeze and some sunshine, it's starting to feel a lot like Spring.
Until Next Time
Richard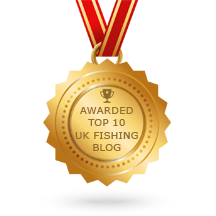 Please subscribe to my Video Diary
Consultant For
Sponsored By