It was Christmas social time but the wife was due out for her Christmas to do in the evening.  My dad was down for a visit so he would be on babysitting due but I was on taxi service!  Therefore, my social needed a change of venue and we would also do some feeder fishing after some small carp.
After spending an hour looking for signs of fish and drawing more or less a complete blank, we opted for the comfortable option.  The was wind behind us as we knew we were in for some strong winds and a few rain showers.
I had ordered a few bits from Spotted Fin's coarse range and was feeling hopeful.  But with no signs of fish and a few bad reports from other anglers, it was going to be hard.
You can always tell when a carp angler goes feeder fishing, as they always take the brew kit and a few mince pies – well it is nearly Christmas.
It was very hard going and about 10 minutes or so before pack up time, the heavens opened up again.  All the kit was soaking wet and with a blank soon on the cards, it was time to head home.
Until Next Time
Richard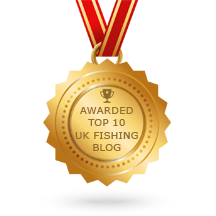 Please subscribe to my Video Diary
Carp Fishing Tackle on Ebay