Well, it's been just over two weeks since my last trip.  It's so nice to be back on the bank.  The wife was away for 5 days over the weekend, then I had a sick child, a school closure and the Autumn tidy up in the gardens.  Work was pretty full on (also for the next week or two), so it's just Saturday night only unless I fancy a night time set up.
I arrived just before 9 am and was amazed to see only 3 swims had anglers in.  I got my bucket and placed it in a swim that I quite fancied (with the way the wind had been blowing last night), a good old storm had to push through and with any luck, this would have stirred them up.
With the weather looking its best, the pressures very low, I am feeling confident.  However, not being here for the past two weeks, I am a bit out of touch and with that in mind, I settled for a swim with a large amount of open water.  My plan was to keep an eye out over the next few hours and then decide on the best spot.  The two swims in this area took the full force of the wind.  I put out a couple of single hook baits, in the chance of a passing carp this morning and then I would spomb plenty of bait over the area.
After a lot of looks and a recast for a few hours, I proceeded by a lot of markering and finding the perfect spot with the Deeper.
I was finally happy with my rod positions for the night, the right had rod was on the spot you see above with about 10 pouch fulls of catalyst boilies over the top, with a prototype wafter with a couple of fake maggots from Evo.
For a little twist, the other rod was left where I had cast it first thing this morning.  It had 10 spombs of boilies & particles over it – being mindful of the bream.
It was all pretty peaceful until around 8.10 when the right-hand rod trotted off and I was into a nice lump.  It clearly didn't know it had been hooked and rolled into the Nsr pretty easily.
That was until it came to photo time and I got coved in gunk.  I used a whole bucket of water on the fish, which ended up over me.
31-14 Common
I got the fish and the bait back.  I put a few more pouch of catalyst out and got a brew on.  I settled down to watch the rest of my film on Netflix, my best friend on these long winter nights.
The night passed with no action, other than some very extreme rain showers which woke me up a couple of times.
That was that.  Despite my effort and flicking a single hook bait at a couple of showing fish.
Until Next Time
Richard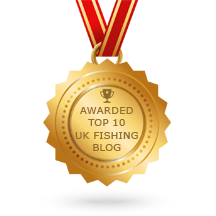 Please subscribe to my Video Diary
Carp Fishing Tackle on Ebay