With another teacher's strike buggering up my plans to do a couple of nights, I decided that an overnighter would be a solution to my situation – as long as I'm home before the wife heads off to work, so I can look after the kids.
With a dentist appointment at 4 pm, I couldn't get down the lake until about 6 pm but this gave me plenty of time to find a swim and get things sorted before dark.
I drove in the gate and headed along the east bank, I felt I needed to be on the back of the wind, but as there was a southerly push in its direction, I was pushed down towards the northwest corner. There was a gentle light breeze and so I felt warmer than I expected.
I hadn't seen any signs of carp at this point, but something about this area just felt right and fitted in with my approach to this session.
I leaded around in the bay to my right and found that the bottom was very clean. I certainly wasn't planning on fishing anywhere near the snags and being a lot closer than I would have been if I'd set up in an open water swim.
I followed the same process with the left-hand rod. I wasn't actually sure where this rod would end up, I was looking for gravel or on the edge between that and the silty areas. I'd not fished this area for over 5 years, as I simply couldn't get in here when I fancied giving it a go. Much to my surprise, there was a lovely gravely area right in the middle of the bay.
This appealed to me. The question was, do I fish this side or the other side? I opted for the far side, as I felt this was a better interception route if the carp came around the far corner which leads into a large open water area that they love.
These are where the main bloodworm beds are. Unfortunately, as this area is completely out of bounds, so, we can only assume this. Plus, you need to be a very good caster to get anywhere close to those silty spots.
Once everything was in position and camp was up, it was time for a brew as dusk was arriving and getting a bit chilly. I was slightly regretting setting up near the reeds, as the warblers were going crazy and they would be starting up at the crack of dawn.
I'd spent yesterday afternoon mixing up a concoction of ground-up Catalyst boilies, Classic corn mixed Pellets and then soaking them in Catalyst syrup. This will give my bait cloudiness in the water plus a Catalyst kick. I added some Catalyst Active Groundbait, I would fish a wafter and a bottom bait over each spot.
The morning soon arrived and I'd forgotten how quick overnighters pass. I can certainly understand why I love 2 or 3 nights on the bank.
The warblers were not up too early. It was a day angler in his car going by who woke me up about 0630. I was surprised that an early morning take hadn't happened by then.
I was hoping that I could watch the water for a bit longer this morning, maybe I should have set the alarm clock. I did finally spot a couple of carp show, one directly opposite and the other along the margins to my left.
Pack-up time wasn't far away, a brew was in the pot and on its way. You never know what the last couple of hours can bring, but it could be another blank trip. I'm hopefully getting out over the first of many May Bank Holidays! Not sure if it will be two nights or one. I would prefer 2 as I fancy getting back down this end of the lake and spending a day in one of these swims. My wife is away next week for work and I could do a day trip, but it's a long way for 5 hours fishing. However, if the weather conditions look perfect, I may just have a go!
Until Next Time
Richard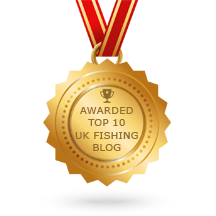 Use my code Richard10
Get 10% off at the Deeper Sonar checkout
Get 30% off WW5KFTK @checkout