It's that time of the year again, and I'm back on the Airfield Lake. It's been open for two weeks, but as it fishes hard, the carp have fed on naturals all winter. I stuck with Meadow Lake for a couple more trips – the 40mph plus winds help me decide as well. It's very open here, you are very exposed to the elements.
I miss the expanse of this lake, but with all the wind and rain lately, it's not looking very appealing, however, the carp are showing, as always, and just out of casting range.
My swim choice was going to be based on avoiding yet another few days of strong winds and utilizing the wind to gain a few more yards on my casts. This gave me the north-facing swims, along with tucking myself away from the winds, unfortunately, my first choice was taken, by a day angler. Possibly for the best, as that swim is on a bit of a slope, and with the wet grass, I could see myself needing a change of clothes!
I messaged Ian, he was due down tomorrow, about his thoughts, and together, we hatched a plan. Which hopefully, will result in our first Airfield carp of 2023 and neither of us getting blown away by the winds!
Back where I finished last year and the carp are not too far away. I sat watching the carp topping off the island, out of my bivvy door.
I'd cast one bait as close as I could to the island, which, to be honest, isn't that close at all. The other rod is positioned in a lovely little spot not too far out. These may well get changed about once Ian arrives tomorrow, just to avoid picking up each other line. These carp are a bit wild on here at times. The close rod had been baited with 10 large spombs of 12mm Catalyst boilies and my ever faithful 12 x 15mm Classic Corn wafters, they do love yellow baits.
The long-range rod has 4 spombs in and around it, I'm trying to get those carp searching.
The weather is looking interesting, to say the least!
Progressively getting wetter by the day, along with the winds picking up and the pressure plummeting before it really rises early next week.
It's going to be fun one way or another. Hopefully, the pegs will stay in the ground, we bag a few carp and early days for this place.
Late afternoon, I got my tea on the go, just love my gas Weber, also remember to always leave the door open for ventilation purposes.
I'm very much into the filled Yorkshire puddings at the moment, if summer ever arrives, it will be back to steak and chips and other stuff I'm planning on having a go at this year.
The rain and wind did fade away overnight but soon arrived again this morning. No action was received on the rods, which for the time of year is no surprise here. The carp are clearly out and about feeding on naturals, as they do. Each year, it's like starting a new lake each season.
The weather over the next 24 hours is going to be pretty rough, but with any luck, it will result in a carp or two.
Ian is due down after lunch, and I'm planning on a walkabout, to have a look into the swims I've yet to see this year.
There is a part of me that thinks I should go home, but the kids break up for two weeks tomorrow, and that's me done until mid-April. Plus there's another bank holiday at the end, so I can't fish. I really need to make the most of the time. I've taken the hard choice not to join the club lake I've been a member of for the past few years, for two reasons; firstly, they have chopped all the bushes down and removed a lot of the trees – you can basically see from one end to the other. I really like to tuck myself away and I really don't like the look of the place anymore. The other reason is that I've probably caught them all twice over. It's time to move on and find somewhere else locally.
We shall see how this goes then.
At about 11 a.m., I had a few bleeps on the right-hand rod that turned out to be a tench. That's only the second one I've had from here, a feeder angler does very well from a few spots along this bank.
Not really what I needed. However, I was just about to reel my rod's in, go for a walk and have a chat with the only other guy fishing on the far bank.
You can just about spot him if you zoom in.
Well, I'm all set for whatever the weather throws at me tonight. I'd a good hearty tea, tidied up the bivvy, and packed a few things away, just in case. Hopefully, in between the heavy rain and wind, one or both of my rods will burst into life, with the first Airfield carp of this season.
I'm still standing after all that heavy rain and strong winds last night. The carp are active in their sanctuary and just beyond, unfortunately, out of my reach. I can only hope they drift my way more. I've had a thought of moving swim, however, I've spotted a dead tree that I don't like the look of, and it's also not worth the risk.
I didn't write much yesterday due to the conditions – the wind, rain, etc. It's now Saturday morning and other than a swing in the wind direction, which has finally died down, the rain is still falling and we are all stick in our bivvies or under our brollies again. I doubt my kit will dry out before I head home.
My door is half open, I get a lovely view of the island and can lay on my bed watching the carp crash so close to the island. We can't fish that close because when the island was cleared, the trees around the edge were falling into the lake.
You can see them in this picture. Quite a lot are under the surface, giving you a false impression of how close you can cast, assuming you can cast that far in the first place!
Looking at the forecast, it's either a wet pack up or hold it out until 1 o'clock ish when it's due to stop.
I'm going to be going later, I don't fancy getting soaked and drying my kit out all next week. That gives me 4 hours to catch a carp in the rain. These are rare on here for me, I've had the odd soaking, but it's not that common – to the point my raincoat lives in the car.
Despite my best efforts trying to avoid getting soaked, I mistakenly thought the rain was stopping because of the lovely clear skies in the distance. But nope, that vanished, and the rain came back mid-way through pack up. It started raining heavily and there was no real option but to carry on regardless, as 3/4 of the kit was on the barrow.
It's always a good feeling to get out on the other side of a stormy few nights on the lake, even better if you catch something, but it wasn't to be.
Until next time
Richard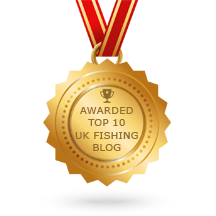 Use my code Richard10
Get 10% off at the Deeper Sonar checkout
Get 30% off WW5KFTK @checkout