I headed off, at about 07.30 hours this morning, to the Airfield Lake and spent an hour looking about. I even set up my bivvy in one of the swims, but it just didn't feel right to me. It wasn't looking carpy at all.
With the bivvy down and back in the car, I was soon at Meadow Lake. It's no more than a couple of miles away by road. I was shocked to find myself only the second person there. This did cheer me up. I'd originally planned on arriving Wednesdays over the winter period, as there isn't a great deal of gardening to be done. I think this is only the second time I've managed it.
I received some information from a fellow member on Monday morning about his success in one particular swim. It was the perfect spot to avoid all the strong winds forecast, plus be in with a shot of a carp.
I quickly got a load of bait out there. It was a mixture of flaked maize, 11mm Catalyst/Classic Corn Pellets, and 12mm Catalyst boilies with a good load of Hemp oil and Betafin.
The rods were all sorted with half a Masala pop-up and 15mm Wafter, Catalyst on one, corn on the other.
It was now time to get the old faithful JRC TX2 G up for the second time today! This bivvy has done me well and must be 15 years old. My mate Rob gave it to me some years back, when he used to work for them. It must have been 5 or 6 years old at that point, but I feel that it's the last year with me.
But before I had even got it fully set up and anything inside it, my right-hand rod was away, with what felt like a nice lump one moment, and the next, it didn't! It can be very deceptive at times. The fight was definitely feeling like a big fish and on the scales, it went over 26 lbs.
Now that's a good start to my session, and hopefully, a sign of things to come over the next few nights.
It was an extremely blowy night, last night. However, I was quite sheltered from the wind, but the roaring sound in the trees was a bit extreme at times, this faded away after midnight. I ended up recasting a rod, because of a heavy liner, but that was it until a couple of bleeps at 5 am this morning. I've seen a few shows, but that is it so far.
There are a couple of lads hauling in the Winter Bay, doing a quick overnighter. I have the opportunity to move, but for some reason, my heart is telling me to stick with it here. Strange, I would normally move, with the information I have. They've caught a few and the fish have been showing in there for the past 12 hours, I would be on there like a rocket, but something inside me is telling me to hang on in here. Fingers crossed.
First light this morning and looked very atmospheric.
I topped up the swim quite early today, the weather conditions are forecast to be very blowy, rain, etc and I wanted to get my bait out accurately. I planned on doing the rod's later on, in between rain showers.
I had a walk just after noon and headed back to my swim at about 1pm, which was lucky as the rain arrived just as I walked back into my swim! I quickly got the rods back on the spots and tucked myself back in the bivvy. There were a few small breaks in the rain, but it continued until nearly 9pm, it wasn't too heavy and I felt there was a good chance of a carp tonight.
It's the second morning and no more carp, which is certainly a knockback. From what I was hoping for, I have repositioned both rods for the day and now need to put some thought into the last 24 hours to be able to turn it around.
I must also remember that I'm targeting a 40lb Common and not targeting numbers. It is hard going at times but this gets me through those winter nights. I don't generally like to target individual fish as I can get obsessed with them, and in the past, if the fish gets caught, I would struggle to go for a few weeks, which isn't what fishing is all about for me these days. I love being outside with nature as much as possible, I often think if I wasn't a fisherman, I would be out backpacking up and down mountains and camping out all the time.
With a mixture of sunshine and showers today, I was hopeful that my recast would pay off, and it did! Around 11.30, the left rod was away, and I was finally into my second carp of the session. It came in pretty straightforward, and from my kneeling position didn't look that big, until it stuck its head down and just plodded around under the rod for quite some time until it eventually slipped into the net.
25lb on the nose. That will do me. Not going to complain about that – after my last trip out.
Getting the bait back on the spot was extremely hard, with the very strong south westerly wind pushing against the tree. I had a couple of close calls and decided to up the lead size, which did the trick and you never know it may well rattle off again this afternoon.
The afternoon passed with one extremely heavy downpour, for about 10 minutes and then it pushed away and out came the sun with a fabulous partial rainbow as a bonus.
With only 5 anglers fishing tonight, which is pretty good for a Friday, I'm hoping for one last bite of the apple on Meadow Lake. Next week will be the Airfield Lake and another 7 months hunting for the unknown monster that's been seen and no doubt been unfortunately lost by a couple of members. Until then, I've just over 18 hours to go before home time. I'm heading for a midday pack up, as I would very much like to be here at 11/1130 for bite time, based on my last two fish.
Bang on 6 pm, my left-hand rod was away, and the fish kited right. It was heading towards the snags off the side of the island, and I felt it touch them a couple of times. I walked back, doing my best to stop the carp from getting into the snags, but it found what it was looking for and was stuck. I released the line and waited until the line started to pull up again – which wasn't long. I pulled into the fish and it felt like it was stuck hard, however, it was still kicking, I released the pressure off the line again and watched until it was moving again. At this time, I did think if this doesn't work, I'd have to call the Estate Manager to get the boat out before it gets way too dark. As luck would have it, this lump of something, started moving towards me and sure enough, there was a carp and a snag coming towards the landing net! Oh boy! The carp was attached to some lead core wrapped around my line, giving me just enough space to net the carp, with the snaggy rubbish hanging out of the net. I secured the net, grabbed the scissors from the bivvy, cut the line, dragged in the rubbish, and put it on the bank to sort out later.
16lb 5oz after that battle, I was extremely chuffed to get that fish into the net.
The following 45 minutes turned into a bit of a nightmare with my braid and leader material. It ended up with me switching to 20lb mono. Luckily, I carry a spare spool with me.
Just after 7 pm, I had the privilege to photograph the 3/4 Lin at 41lb 8oz for a fellow syndicate member, absolutely massive carp, and well done to him.
With the rods on the spot, it was now 8 pm and I'd not eaten tea yet. So it was going to be snacking on rubbish, I don't like to eat a lot after 7pm, as it is not good for me.
What a beautiful morning to wake up to. I, unfortunately, didn't get a bleep last night, but I did hear the echo of a buzzer drifting across the water. If you follow Carping Kev on YouTube you will see the result after a very hard winter for him, his thinking just came together.
I need to be home by noon and not a second later, otherwise, I will be later meeting up with some friends for a lovely afternoon walk. I'm not one for being late, but I need to hang on for that 11 am take. My plan is to get everything in the car, with the exception of the kit I would need to weigh, and photograph a fish. Fingers crossed it all comes together.
The rods are on the floor, and it's 1050 am. Let's hope in the last few minutes fish number 4 arrives. I shouldn't be greedy, but it would round the winter off nicely before I head over to the Airfield Lake, until the end of October.
It wasn't to be. I'm happy with my results and will be back in November for another winter.
Until next time
Richard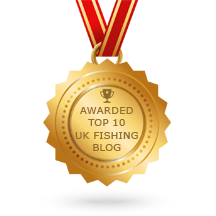 Use my code Richard10
Get 10% off at the Deeper Sonar checkout
Get 30% off WW5KFTK @checkout