The wife and kids are in Ireland to visit family, so I have the opportunity for a few nights fishing. Unfortunately, the ever lasting cough has reared its ugly head again since my last trip out. My youngest was also starting to show signs of her having it before I headed off last week. I was hoping to avoid it, but alas, it's back, I'm still planning to come this week. I'm hoping it's on its way out and once I'm pitched up, I can just relax and rest. Plus the weather has turned a lot warmer and a lot more favorable over the coming days.
I was hoping to fish the same swim as before, but margin fishing when you are coughing like I am isn't going to catch carp. I felt a bit sorry for the other anglers on the lake, as there were quite a few, 6 or 7 of us.
I was now looking for a swim that gave me a good 16 wrap out away from the coughing lunatic that I must be, coming out fishing.
I had a quick walk about, The Gap Swim was free, it was the ideal opportunity to be able to cast as far as I wished and avoid spooking the carp. It probably doesn't, but it's about how confident you feel and as I had the opportunity to stay 5 nights, this swim gave me access to a lot of water and plenty of different spots to fish.
No one had seen anything show, but a couple had come out over the weekend, and with any luck, they must be on the move sometime soon.
My plan was quite simple this trip – find the perfect spot, put 10 spombs of bait over each area and fish a couple of 12mm pops over the top. I needed to do this, as I couldn't make things too hard, and moving swim wasn't an option. Unless, I suddenly felt better, which would be nice, but I doubt it would happen, as I just can't get rid of it fully and it just creeps back.
Ian is due tomorrow, and hopefully, he will be able to pitch up nearby, and we can have the first social of 2023.
The afternoon was all gone too quickly, tea was eaten and the light rain arrived.
My night shot with the estate house in the distance and the glowing town way in the distance. It does make for a cracking photo, albeit it no doubt will get megapixels reduced and not look as good on my website as it does on my phone.
We shall have to see what the dark hours brings in the way of carp and coughing fits.
The first night brought a few coughing issues, but a lot better than I thought. The main issue was a cramp in my calf muscle at some point. It involved somehow getting my leg out of the sleeping bag without bending it (not easy), wow it was painful, and then trying to walk it off in the rain. I was laughing at one point to myself, thinking if anyone could see me doing this at the same time having a coughing fit. It reminded me of the time that I got a cramp when I used to have my own allotment and as I was putting on my wellies in a very wet flooded car. Cramp set in and I was hopping on one leg in the puddles in great pain and just couldn't get the other wellie on. Luckily it was early morning and yet again no one spotted me!
Back to the fishing. It was all quiet on the carp front, and I didn't hear anything all night, despite being up a few times.
Hopefully, things will start to pick up as the next few days progress. Around 1 p.m, the blue sky and the odd bit of sunshine were starting to appear, short-lived. In the past 2 hours, I had spotted 3 carp out in front of me. This was really nice to see, giving me those little signs that they are on the move and every chance they will be on the feed.
I ended up baiting up at around 2 pm, I stuck out a few more spombs and switched around my hook baits. Ian arrived about this time and set up on the swim next door to me, so we can have a good chat over the next few days.
Tea was on the Weber at 4 pm, because I like to eat in daylight hours, you do spend a lot of time in the bivvy, it's nice to get out in the open air.
With the food tasting great and the sun setting over the lake, it was only just past 6pm. The nights are certainly drawing out, bring on Spring.
The night was a bit rough, with wind, geese, and me coughing. I'm not sure how much sleep I actually got, but I don't think I would have been any better sitting at home by myself, wishing I was down the lake in these mild conditions. Ian was baiting up, along with a couple of new arrivals I thought it best that I get it over with quite early today. I was pretty much done by 12am and in time for some lunch, I would put on fresh hook baits later this afternoon/early evening.
I'd put out a few more Impact Particles along with my mixture of pellets, 12mm Catalyst Boilies, and flaked maize. All had been soaked in Spotted Fin Catalyst Syrup for the past few months. I am slowly building up the swim over the nights I'm here and as the conditions improve daily.
I feel it's only a matter of time before they get their heads down and start moving more into the open water spots.
There's still a bit of pressure on the water; 8 anglers fished last night, 3 have now gone home, but I'm sure the weekend boys will be about later this afternoon. I believe this will help to also get the carp motivated and on the move.
Another blank night passed, my cough was horrendous last night, I'm going to have to seriously consider my options today and work out if I'm better off being at home. Currently, I don't think so.
The other thing is that I'm not giving a 100% to the fishing, which isn't going to help me catch anything. There's a fine line between going through the motions. However, as I've written about before, it's not always about fishing, it can be about the benefits of being here, and that's what this trip is probably more about.
I came to the conclusion that I might as well stay the fourth night, but the fifth could be one too many. I'm not fishing next week as the wife is away for the weekend, which brings me into March and even closer to getting back on the Airfield Lake.
With this spectacular view, I'm not sure if I will be straight on there when it opens this year or hold out until April. We shall just have to see how it works itself out.
With a sunny day on the horizon and a diabolical night's sleep, I use the word "sleep" but it feels like I was awake most of the night. Along with the geese, more in the swing with the spring activities than the previous night. I think it would seriously be stupid to continue fishing for the last 24 hours available to me.
Some friends made a return visit, and at about 0830 a bream paid me a visit as well.
It was all happening this morning, I hung around until 1230, but that was the only action in 4 nights of fishing.
It was an absolutely brilliant sunny day to pack up and despite the coughing, it was lovely to be out for a few nights in the warmer weather. There were a few fish caught around the lake, so there was really every chance of a bite.
Until next time.
Richard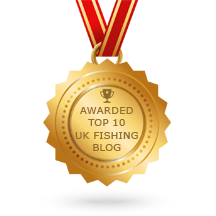 Use my code Richard10
Get 10% off at the Deeper Sonar checkout
Get 30% off WW5KFTK @checkout