I hope you've enjoyed part 1, as much as I did being there – along with the joy and excitement that built over these sessions.
Enjoy
I wasn't working today and next week I can't get down the lake until Friday morning. So I was up and down the lake by first light and looking about. However, the wind is picking up to gusts of around 50mph, so I was mindful of the wind direction. To complicate matters, the wind was swinging around a lot over the next 48hrs. The water levels are still very low, so the swim option was still quite limited.
When I arrived (just after 7), I was the only one there, Ian was due down at 0930. We'd chatted yesterday about our options and I pitched up in our first choice of swim. This was based on the weather forecast, previous year's captures, and recent information from other anglers.
The water levels are a real pain at the moment, along with the high winds. It rules out some of the very exposed swims, plus the real gravely one, as you can't get your pegs in very well.
It was the only choice unless we split up completely and fish different lakes altogether and some distance apart. With Ian's nights coming to an end at the end of October, it's nice to pitch up and be social before the winter sets in. He just can't do the long hours of darkness stuck in a bivvy in the cold, damp and possibly wet.
This swim also gave Ian a couple of options. All I've done is flicked a couple of bags out and will wait for his arrival before I set about getting the bait out.
Moody sky
At one point yesterday afternoon, I thought we were in for a big storm, but it passed us by and the early evening was fabulous.
The last light is fading through the trees, it's amazing how warm the sunshine still is.
My first night was bleep free, which after the last two trips was a shock – 3 fish on the first night. The lake had returned to its normal form, which with the cold night and clear skies wasn't a shock.
Misty
It was a very misty grey start, hopefully, the sun will burn off the mist and give us some sunshine before the storm arrives this afternoon. Heavy rain and strong winds peaking at 40mph, it should pass over by 10pm tonight. This should hopefully bring the fish on and we will have a few carp tonight.
My first take was just before 4pm in the middle of a downpour and luckily the fish was well-behaved and soon in the net.
21lb 15oz
Perfect start, plus a daylight fish, which is a real bonus lately for me. The rain had eased a bit, so I was able to get a new PVA bag back out without any fuss.
My second take was about an hour later, but clearly, from the off, a lot smaller carp were about.
Peach
You can never choose what you catch and should be grateful and thankful for another bite, I was over the moon. Unfortunately, it was raining heavily, so much for me using a PVA bag. I did try, but failed and just stuck with a single hook bait, which unbelievably rattled off again about quarter to six! This one was on a mission to go left and for lovely overhanging trees, I just managed to stop it and played the carp out under the rod tip.
20lb on the dot
I checked it twice, despite the lashing rain and yep it was 20lb on the noise.
I quickly flicked the rod back out, I hadn't dried off from the first fish and was getting wetter, but just didn't care. I was completely in the moment, at least I had finished my tea, which I was eating when the second carp came along.
The next take was well into darkness, around 1930, and was in the right-hand rod which had been sitting there since 8am Thursday morning. This fish headed off right, but with some gentle persuasion was soon in the net.
22lb 11oz
Forgot to take the head touch-off, but you can see the rain lashing down still. It's due to finish around 2100 hrs and the winds will slowly die away and swing around to more westerly, giving me a lot more shelter, I hope.
The next bite was back on the left-hand rod again, once I had pulled into the fish and gained some ground, it immediately ran towards me and was going for the left-hand margins. I held firm and it headed my way and was soon in the net.
12 lber
It was about 12lb and I was glad the rain had more or less passed over now. With another single hook bait on, the rod was back out there once again.
My next take was about 2115 and on the right-hand rod. This carp kited left, and then as I was gaining ground, it absolutely ripped off back out into the darkness. I finally coaxed it towards the net and on my first attempt, it was straight in there. I don't like to rush netting carp, as it can so easily go wrong, there's no point in rushing the process.
23lb 13oz
Perfect and I can't quite believe my luck at the moment. These fish have obviously switched on due to the weather and are really munching on my bait. I'm definitely going to be topping up the swim tomorrow morning.
My next take was just before 2330 and on that left rod again. This fish held its ground but slowly started coming towards me, with ever-increasing ease. I was wondering how big it was, in my mind, it was getting smaller by the minute. It headed towards the margins trees and was easily coaxed away, it didn't take much to get it in the net, once I looked in the net, wow! I lifted it out of the water and onto the mat.
31lb 12oz
Absolutely fabulous and I'm over the moon with this result. The wind had died away, the lake was flat and calm and I couldn't believe my luck.
The next two takes happened within minutes of each other and the first goes to show how you really can't pick the size.
10 lber
The second fish is a lot bigger and not your normal shape of carp for this lake.
16lb 10oz
Pretty and definitely had to weigh this one, mind you, I generally weigh most fish and definitely take a photo or a screenshot from the video footage. I did with a lot of these today, due to all of the rain and wind. Both rods are back out, and it was time to get back in my pit once more, I was finally drying out.
It wasn't until 0305 when the right rod was away with another lovely Airfield Common, giving me a good run around the swim.
16lb 10oz
I'm not sure if I'm going to get any sleep tonight, but do I care? Not at all, it's turning into another great session.
Stunning morning
What an amazing night that was and with only 24 hours to go, who knows what was going to happen. I topped up the swim at about 0930 and did a fresh Pva bag, as I'd had to abandon that, with the heavy rain last night.
We head into the last night, wishing for more fish, but being humble about what we have achieved and really hoping that Ian managed to avoid a blank tonight. This was no way out of the question and has been done by us both on many an occasion, we will just have to see how it pans out.
Just before 6 pm, I heard a splash and looked out along Ian's margins and he was into a carp. I quickly headed over to his swim.
Once on the net, I sorted out the camera kit and scales.
16 lber
He was very happy, with his blank saver, it keeps the continuity of not blanking, and his confidence levels up, it makes all the difference.
The weather had turned again after a lovely sunny afternoon, it looks like it's going to be a wet pack-up. This wasn't on the forecast at all until early evening. There's not a lot we can do and it's certainly been a long time since I've packed up in the rain, I promised the wife and kids I would be home early as well.
Fingers crossed for a bite or two tonight.
My next take was just before 1 am on the right-hand rod and I was really feeling I had this carp under control until it found a boulder to my right. I walked down to where I had been netting the carp that go that way and put the rod on the floor. I loosened the clutch and within a couple of minutes, it was away. I picked the rod up and pulled back into the fish, which was now going hard right and after the overhanging trees between me and Ian. I was mindful of Ian's lines and listened out for any bleeps, which was ok. The carp was clearly now very close in and my line was over one of the branches, I could see the end of the branch pulling underwater. I maintained the pressure and put the rod tip under the water, hoping the branch would sink down with the weight and pressure holding on the carp and it would flick off the end. Unfortunately, it was a lot further along than I thought and it was looking like it would be time for a wade. I ended along the margins, holding the rod tip out as far as possible, but the carp shed the hook.
I was now attached to the tree and needed to get the rig back. I managed to get the lead to slide down the line, I grabbed that, but it was clearly obvious it was quite deep under there and it would be necessary to pull for a break. The weakest point was the hook link material and which is where it parted company with the tree.
With a new hook link sorted and cast back out. It was time to reflect and see where or how I could have handled that situation better and got the carp to the net. It did feel quite a lump.
Sinking the rod tip early would have been an option, but would I have managed it before it clipped the branches? I was not really sure about it. I think due to the boulder and the angle of the line, even if I had walked back towards my rods and along the bank sinking the tip, it was probably a done deal in the carp's favour.
You can only take this information on board and when my next fish tries that move on me, I will be a little more prepared.
Morning
I had a single bleep at 0630, which was actually perfect timing for me to pack up and avoid the rain. I'd promised my family I would be home early today, I was a bit damp, but most things were pretty dry.
Ian ended up with 3 takes, unfortunately losing one to a hook pull, but landed a 24 lber early this morning and was staying on until this afternoon to pack away in the sunshine, lucky man.
Until next time.
Richard
Come visit and subscribe to my YouTube channel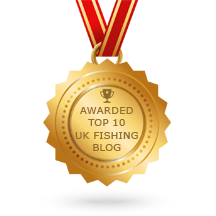 Use my code for 10% discount
The discount code applies to the entire order when purchasing the Deeper Sonars PRO, PRO+, PRO+ 2, CHIRP, CHIRP+, CHIRP 2, CHIRP+ 2. The code is valid in all countries.
CODE = DEEPER-H-9OCSF
Get 30% off WW5KFTK @checkout
➵ UK'S BIGGEST FISHING PARTICLE SUPPLIER