I arrived at the lake a lot later than planned, my youngest was off school due to the teacher's strike. Only to find that I was only really left with one option for a swim unless I fancy setting up and moving the next morning or going home and coming back again. This option wasn't very practical, alternatively setting up in a swim which didn't feel right.
The choice was made and for the first time, in a long time I waited for a swim to become free, this is something I don't really tend to do normally. I put a great deal of thought into this over the next 5 hours as I waited. It simply felt like the right thing to do with the way the weather was.
The view over the lake this afternoon was pretty spectacular and worth walking around and having a brew with other syndicate members.
I am used to setting up in the dark, plus with knowledge from my Fish Deeper Page, I know exactly what to do.
I was all sorted by 2130 hrs – one rod on the above spot, with a Catalyst 15mm Wafter and two large spombs of my ground bait, particle mix. The other rod is just in the margins with a 12mm Yellow pop on, also with two spombs worth of bait. I just wanted to keep it simple. We shall just have to see how it all plays out.
I was up in the night for a wee (as you do!), the weather was so warm, it was definitely worth staying up and having a brew listening out for any signs of carp. This time alas was unfruitful, however, I find this a very useful tool, to locate the carp in the colder months.
Just after 0630, the left-hand rod gave a couple of bleeps, I was instantly by my rod as it ripped off.
After a short fight with a carp that I don't think it knew what was happening. It was in the net, which was soon turned into a retained, as I needed to sort my life out. It had been that long since I had a carp.
I'm certainly happy with that, and after waiting for the swim, it just felt perfect. I was rewarded for my efforts. It did managed to pick up the other line, but by the time I had sorted the fish, plus that rod, I ended up casting out when it was pretty light.
At 10 am I switched my right-hand rod over to a zig, something I've been meaning to try for some time. I've personally found setting up a zig to be quite problematic and I lack confidence in this form of fishing. The only way to fix that, is just get on with it! My main issue is the zig line section wraps around the main line, but after a few practice casts, I may just have the hang of it.
The morning and afternoon passed, with no action on the zig rod. I'd flicked the lead around to the right a bit more and found a pukka spot. I felt it was worth moving the right hand rod to.
I spombed out a couple of large spombs over each spot, and hopefully, it will produce another bite over tonight.
A lovely evening was had, along with a bleep-free night. This wasn't in the script, but that's fishing for you.
Unless there's a real issue, I'm planning on leaving the rods out all day and possibly until tomorrow morning, we shall see later on today.
I had a nice surprise today. Ian turned up for a day session along with a large, freshly cooked pasty.
We had a good laugh and a chat, it'd been since before Christmas or even longer since I had seen him.
I'd gone with the, let's leave the rod's out for another night. I often wonder that if the carp pass by your bait a few times over a long period of time, they may feel it's okay to pick it up over its been in situ for 24 hours plus. This has worked for me many times over the years.
It's looking like that tactic didn't pay off 😦 . My bobbins are still where they were last night. It was very mild again last night, and with the prospect of another cold couple of days next week, I was hopeful that they just have fancied a munch. The pressure has been high and steadily rising, which could've put pay to that.
In the last ten minutes, I've had a couple of fish top not too far off my spots. I was going to start packing up at 8 am, but I'm going to push that back until 9 am. It would be crazy to start making too much noise yet. I'm due home by noon, I may well be a bit of a rush to pack up, as I prefer a nice slow one, to sort it all out, get it packed away and write a list of anything that needs to be done, for my coming trip out on the bank. This keeps things organized and the flow going.
The bivvy is down, and I'm sitting on my bed, still, with the odd fish showing. I need the loo and need to be home, the Carp are just trying to frustrate me.
I held out until 10am, but I really needed to get going.
Until Next Time
Richard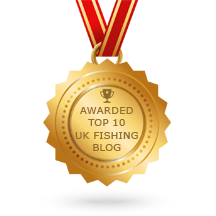 Use my code Richard10
Get 10% off at the Deeper Sonar checkout
Get 30% off WW5KFTK @checkout