Finally, back out on the bank, I'm still not 100%, and a day later than planned! I just need to blow those cobwebs away (as my granny would say) and shake off this thing that's been going around once and for all.
I've had a minefield of problems with my health, since catching covid for the first time, last October, along with my youngest daughter. We just can't completely get rid of it and that's the reason I was a day late, she was not very well again this week, resulting in Thursday off school.
But I was determined to get on the bank this week. My first trip of the year was originally planned for the 1st of January, hey, I'm only thirteen days late. The end of last year was much the same with only 2 trips in November and December. It's been quite hard and very depressing at times as I'm generally out 2 or 3 nights a week, so being stuck inside isn't a great place to be.
But I'm back, and as luck would have it, I'm in a pretty good swim. My choice was based on avoiding the strong, westerly winds and the need to have my car behind the swim. I stopped for a quick chat, I wasn't going to do this until later on in the day but only to find he was heading home a day earlier and I was able to move in after him (later on that day). Result!
I knew where I wanted to put my baits, this is always a bonus when you're not 100%.
It's lovely and smooth silt there, I'd made up a mixture of particles, along with other small food items. I like to put about 10 x 20mm boilies in, just to give them something to look for, if they fancy it. This, along with some Spotted Fin ground bait had been soaking in the Catalyst Syrupy, which I use to bind up the ingredients (instead of water), which keeps their shelf life until I'm on the bank and then if needed I add water.
My rig, as always, was a Ronnie, with a pink and white Catalyst 12mm pop on, giving them a choice, and I will see where this takes me
The pressure is looking perfect – I've got a night of rain due and will be amazed if I catch anything tonight. After that, pretty much perfect conditions, the pressure, and temperatures are dropping, I hope they may spring into action.
We can only hope. I've 3 nights available to me, and we will just have to see how it all goes.
The rain arrived a lot earlier than I expected, which in some ways would hopefully mean it would be passing through earlier in the morning, instead of late afternoon.
I was awoken a fair few times in the night by the wind and rain. I thought it may be a good idea to sleep in a tad longer to catch up on some well-needed sleep. I don't need any health relapses.
It looked like there was a good chance the rain would have passed over by 11 a.m, this would be nice. I have a guy opposite me, pike fishing along the tree line. This may well push the carp out of hiding at some point.
Still no joy, but I only really came out to just be here and clear my head. I was just lucky enough to pitch up in a spot that had produced a couple of fish this week. This gave me a real confidence boost, which I just need to continue hanging onto over the next 24 hours. The temperature may be dropping, along with some north/ east winds about for a period, but the pressure is still going down to 997 MBS.
Some thoughts need to go into this if I put more bait out, which is heading for a no, but I did have issues with Tuffy ducks yesterday afternoon and this morning, and you just never know how much they eat. I don't have an issue with them over my baited area, in fact, I feel, it's a bonus, as they will stir up the bottom and attract small fish. This will, in turn, get the attention of the carp.
The sun came out around 10 am and warmed up my swim very nicely. After a walk around the lake to stretch my legs and some thinking about if I should put some more bait out, I thought it best not, but it's worth giving PVA bag's a go.
My timing couldn't have been better, it was pretty calm when I got back, and both rods went out perfectly. It was definitely time for a spot of lunch in the sunshine, but unfortunately, before I even got the stove on, a horrible black cloud arrived and presided to rain for the next hour and a half. Food was postponed until later, as I really prefer to sit outside and eat as much as possible over the winter months as far too much time is spent in the bivvy. It was soon dark and the clear skies arrived, along with the temperature dropping, I could only hope that it all comes together tonight.
I possibly made a bit of a schoolboy error, staying last night. I hadn't noticed that there was a large band of heavy rain due, from about 10 pm, until 6 am this morning. I was aware of the strong winds and the various direction it would move between, but the volume of water was ridiculous! The lake level came up by nearly an inch.
My pod legs were out of the water yesterday morning, and now you can see they aren't. Well, these things happen, and the chances of a birthday carp are extremely thin on the ground. The sun is due out around 10am and that's when I will start a slow pack up. I've no chance of getting the bivvy or overwrap dry, it will have to be a few days hanging up in the garage. All being well, I'm due back Thursday for a couple of nights at the end of the week.
Everything was all packed down and in the car by 11am, and I was off home after the first trip of 2023.
Until next time.
Richard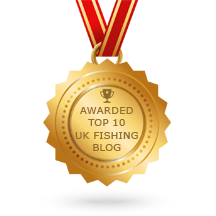 Get 30% off WW5KFTK @checkout