I didn't ever think I was getting out again this year. What with covid, a sick child, who gave the illness to me (which is still hanging around), and now an extremely cold snap. It was now or never as the Christmas holidays are just around the corner.
I'd planned a social with a few syndicate members, however, a couple were not as crazy as me and Steve. I just had to get out as I think I would have got cable fever sooner or later. We did spend a few hours muller it over on Monday, Steve took a trip to the lake on Tuesday – we were very worried that the lake would have a lid on it. Which it didn't.
We arranged to meet up at 11 am Wednesday morning. I arrived about 1040 and took a good look about and spotted not a single sign. It had been minus temperature overnight and only a couple of degrees in the day. You can't blame the fish really.
We spent over an hour walking, talking, and weighing up the options. We were the only ones about, funny that! Finally, we settled on a bay at the back of the wind that was in direct sunshine, if it came out, which it was due to over the next couple of days. We flipped a coin, I got the right, and Steve got the left.
I leaded about around the snaggy area and the other side of a thick weed bed in open water. I found a couple of perfect spots and put 3 spombs of Flaked Maize soaked in Catalyst syrup, along with a few 12mm Catalyst boilies and 8mm Pellets over each spot. I flicked one 12mm Masala pop, one 12mm Pink Pepper Squid pop up out and then finish setting up.
I wanted to use singles, in order to be able to point the rod tip at the hook baits, to increase the detection of any movement quickly.
I just love these birds.
We will see what the next 24 hours bring and then take it from there.
The night was bleep free, and I awoke to a very frosty morning, with clear blue skies.
With plenty of cat ice in the margins, which was a bit of a concern as tonight's temperature was forecast to drop more than expected. Due to the ice being over where I was casting, I couldn't recast my rods if I fancied to. I actually wasn't planning on doing that anyway because the carp would be very lethargic with the drop in temperature over the last couple of weeks.
The temperature is due to drop to -7C tonight, and I have a strong feeling my corner of the bay will be completely frozen over by tomorrow morning.
Unlike yesterday, I was up at around 6 am only to find the lake had a lid on it.
I would certainly be heading home later on today. I will hang around to melt the white stuff off the bivvy rods, etc, and no doubt have to break the ice to get the rods out.
It's been fantastic to get back out and have a Christmas social, with a few glasses of whisky, to keep us warm.
Unfortunately, next time
Richard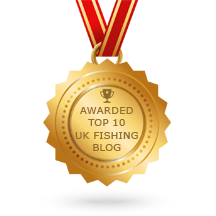 Use my code for 10% discount
The discount code applies to the entire order when purchasing the Deeper Sonars PRO, PRO+, PRO+ 2, CHIRP, CHIRP+, CHIRP 2, CHIRP+ 2. The code is valid in all countries.
CODE = DEEPER-H-9OCSF
Get 30% off WW5KFTK @checkout
➵ UK'S BIGGEST FISHING PARTICLE SUPPLIER