I'm getting back into the swing of things again. A few motivational issues this week, and lots going on in my head as well.
As there's a heavy band of rain pushing by today, and you are never really sure when it will arrive these days, the weatherman isn't that accurate anymore. I was up early and down the lake by 8am. I already knew how many were here fishing last night, so it was going to be down to how many day anglers or really keen night anglers – like myself, as to where I pitch up.
I took a drive around the lake and had a chat with the only person fishing, but I still ended up in my favorite swim (you don't have to look at anyone). It also commands a lot of water and like last week you can easily double up. Your rods are close together, but the distance you can fish apart, along with all the features available to you. I simply can't keep away.
Unfortunately, can't get a bait to all these features, but you get a general idea.
I wrapped out my rods and spombed out my bait; a mixture of Catalyst and Classic corn Boilies again, and fished matching wafter. I wasn't going to cast out until later on, as I was going to take a walk and have a brew. However, the ever-darkening clouds had me heading off back to my swim sooner than I had hoped for.
I'd tucked myself away behind the bushes, there were 50 mph winds due from the south and the pressure is slowly rising from 998 to 1025 MBs, which may not help me. There's a good chance at the moment I will head home Saturday noontime, before a large band of rain arrives, which is predicted to last until Sunday afternoon. I can't stay that late on a Sunday if I've done 3 nights.
The blue sky started heading my way, the sky eventually cleared, and the winds died down, I'm feeling confident of a fish tonight.
It was a completely bleep-free night for me, and unless I see any signs of carp somewhere else in my swim, the rods are staying put, for another 24 hours. I don't feel the need to put on fresh baits every day, as quite a lot of the time, just leaving them out there will produce a take, just when you thought there was no chance.
No joy again last night, and with a deluge of rain due over the next 24 hours, I don't feel there's a great opportunity for bait, and I will knock it on the head by noon and get myself home.
The carp are showing where they were last week, but not coming away from the margins far enough for me to pick them up. I will have to put my thinking cap on and come up with a solution, which I may well have, I just need to see if it would work.
Until next time
Richard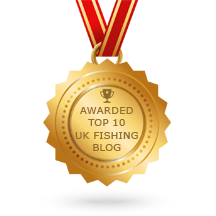 Use my code for 10% discount
The discount code applies to the entire order when purchasing the Deeper Sonars PRO, PRO+, PRO+ 2, CHIRP, CHIRP+, CHIRP 2, CHIRP+ 2. The code is valid in all countries.
CODE = DEEPER-H-9OCSF
Get 30% off WW5KFTK @checkout
➵ UK'S BIGGEST FISHING PARTICLE SUPPLIER