I've finally made it back down the lake, certainly a few weeks later than I hoped for. I completely missed the end of the session on Airfield Lake. All thanks to the dreaded Covid.
Covid, put me out of action for a good few weeks, mucking up my plans for the build-up to my winter campaign on Meadow Lake.
It's now Thursday the 17th November and with a minor issue with having to collect a sick child from school. I did make it down the lake in time to set up and get the rods out before dark. I'd originally arranged to meet a fellow syndicate member down the lake at 1100 am. This turned into him giving me a call and discussing the swim options. We really wanted to have a social, so the simplest solution to my late arrival was doubling up.
I pitched up knowing the spot I was going to fish and the number of wraps before I had even arrived, thanks to my Deeper Sonar Page.
This is such an unused tool available to all, as part of the Deeper package.
As I was still getting over Covid, I'd been having energy level issues over the past weeks, and this was long after I tested negative. I was a bit concerned about how I would find setting up; it went so much better than I expected I even managed to get 6 spombs on the spot! My original plan was to set up the single hook bait for the first night and then bait up for the second. This session wasn't all about catching, it simply was about getting back on there and if I was lucky, catch a carp.
There was a stunning sunset on the first night, which was certainly nice to see.
It was a bleep-free night for me. Steve had a small drop back but it never materialized into anything else around 11pm. He started a slow pack up around 11am the following morning until a rain shower arrived out of know where and set him back a few hours.
Ian arrived about 1415 with some cakes, these were very welcome and yummy. We all sat about for a chat until the cold north-westerly got the better of everyone and they headed home. This left me the only one on the lake, much to my surprise. I knew Carping Kev was due down, before dark, if he was lucky.
I was going to move one of my rods to a different position, but after seeing a couple of fish crashing out near where I was fishing. As no one else sets up near that area, it simply had to be worth leaving the baits there for another 24 hours. I often find this can pay off, with a good result.
Not such a good sunset tonight, but the wind was dying down nicely and a cold night was due, with the likely hood of a frost. This would be a good test for my new winter sleeping bag after the other one, unfortunately, ripped after all these years (some 15 or so).
Hopefully, tonight may bring me a bit of success
Unfortunately, a beep-free night, this mist was building up before I went to sleep last night. I was confronted with a wall of fog first thing this morning however it's slowly lifting now.
The sun is doing its best to break through the fog and I'm sure by 10am, I will be sitting in the sunshine.
That's better and time for me to get my thinking cap on and catch a carp.
I've repositioned my baits more to the right in a couple of old faithful spots, spombed out a load of Catalyst and Classic Corn, and also changed over to wafters. We will see how the third night pans out with the change. There was a heavy frost last night as well (apparently), as I didn't get out the bivvy door until gone nine, I wasn't aware of this, always nice.
Been poking around in this snaggy corner today as well and took a walk around the lake. It's been some time since I fished here, I'm starting to trickle a small about of boilies all around the lake. Just to get them feeding on my bait again, plus it will keep them active if I move around the spots.
I was going to do this on Thursday, however, it didn't work out like that!
There's a mix of wind direction over the next 24 hours, along with light rain overnight. Unfortunately, it's only going to be 5 degrees overnight with the pressure dropping slowly. With more cold water going in, let's hope the carp are still active. It's just gone past 2 pm and I've finally seen a couple showing over the far bank, good to see they are feeling active today.
At about 2 am, the left rod rattled off, I was soon out, wellies on and in the water playing the carp steadily towards me. It was behaving brilliantly, with no attempt to get under any of the margins trees (result). I simply played it out under the rod tip. I couldn't have asked for anything so simple, compared to the past few weeks. It's nice to get a November fish under my belt and the first one from the winter water.
It's always nice to catch one after a long break, as you can get a bit rusty. I hadn't mentioned that it was pouring down with rain at the time, there was a little bit of a lull when I was doing the photography but is now back to chucking it down again. Hopefully, when it dies down again, I stand a chance of another bite.
Just before 3 am, the same rod was away again! Unfortunately, halfway through the same situation as before, the hook pinged out. It was way before I got the carp anywhere near the margins to get a look at it, very unfortunate and hopefully not the last bite of the night. The only other issue was, I hadn't gone back to sleep after the last fish and this is not going to help.
Just as the light was getting into the sky, the same rod was away again and this time it was on a real mission to my left. This was where a huge overhanging tree is, that goes out into the lake. It was clear I wasn't getting it to the net before it went past it. I stuck my tip under the water as far as it would go and just started to pump as hard as I could. I knew when it was nearly my side of the tree as it gave a huge lunge and I had to grab the rod with both hands – one by the reel (as normal) and the other about a foot above and just held on until I felt my leader knot go on to the reel. As I use a 12m length of Fox tapered soft mono leader on to my braided main line, once I felt it go onto the reel, I lifted the rod tip out of the water and sure enough, the carp was in front of me, and not very happy. I played it out under the tip for quite some time before netting it, then breathed a huge sigh of relief.
If you watch my video and I do hope you subscribe to my YouTube Channel, you will notice that I say that it feels bigger than the last one, I was right by 7oz. I was close.
It's a bit fresh with the wind in my face out there, so the bivvy door is looking like a letter box! Hopefully, I will see some sunshine soon and dry the kit out before I head off home.
I was hoping that I had a chance of another carp, but packing up time soon arrived and the barrow was fully loaded.
I'm loving my barrow conversion from Global Angling Product. It's brilliant that I can stack the whole lot on and off I go to the car.
Until next time
Richard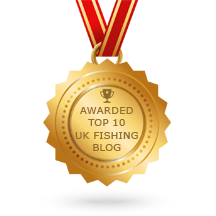 Use my code for 10% discount
The discount code applies to the entire order when purchasing the Deeper Sonars PRO, PRO+, PRO+ 2, CHIRP, CHIRP+, CHIRP 2, CHIRP+ 2. The code is valid in all countries.
CODE = DEEPER-H-9OCSF
Get 30% off WW5KFTK @checkout
➵ UK'S BIGGEST FISHING PARTICLE SUPPLIER