With the end of the Airfield Lake season and our baiting campaign, we were well pleased to get back into the double gravel swim. We had a long discussion about our other options last week and spoke about it yesterday.
I was well happy when my WhatsApp pinned me that Ian was setting up in double gravel as the conditions were very similar to last week. I arrived just before noon and instantly set about spombing my bait out, just as Ian was doing the same. We both put out about 4 kilos of Classic Corn Boilies, at very similar ranges, quite well spread out, we were going to be fishing 20mm Classic Corn wafters.
As always the first night can be a bit tricky, but recently we have both been catching, fingers crossed this will be the same.
For the first time in some time, the first night passed by carp free for both of us. It's quite normal for this to happen, as we like to put out a lot of bait on the first night and only top it up as we feel the need. Over the years, the carp have been put off by too much spombing, but in the last couple of sessions, it's been less of a problem.
The weather change is due to come in today – from the southwest, the wind is picking up and the pressure is dropping, along with a few rain showers. We are perfectly positioned to reap the rewards, once the carp get on the munch again.
Fingers crossed as always, it will be today.
Sometime around 1040, the left-hand rod was away and I was into what felt like a nice carp. It was on the surface and heading out to sea! I just had to let it go, until it was the right time to start gaining ground. It nearly picked up Ian's lines, but with some knitting going on, it was all free and heading off down toward my margins. This is where I played it out until it was ready for the net.
It's a perfect start, with a daylight fish, which is always nice to get. I soon had the rod out again, hoping for my next bite, not to be too far away.
My right hand rod ripped off about 1515 and unfortunately was bumped off on a boulder, something that's not happened for quite some time.
Ian's left-hand rod was away twice in an hour at 2130 & 2210 resulting in
Not bad going I must say, with any luck the carp have finally moved in on the baited area this afternoon and evening.
I got in a few action shots with the help of the moon and Ian's green light, all looking very atmospheric.
Just before 0030, my left-hand rod was away, a pretty straightforward fight was played out and the carp was soon in the net.
Very happy with that after losing one earlier to that hook pull. It's always nice to get the next one in the net and without any issues. A fresh 20mm Classic Corn wafter was put on and after sharpening the hook point, as I like to do, I was soon back in the bag, the temperature was really starting to drop at night now.
My next take was around 0330 to my left-hand rod again, a similar fight to my last carp, I did nearly hook up my other line, but quickly got the rod underneath the other one. I love to have my rod tips high, just makes life so simple.
I didn't weigh the carp this time and estimated it about 13lb, sometimes it is about getting them back in the water quickly.
That rod was soon sorted and I was in the bag again, warming up nicely.
That was the last of the action during the night, which wasn't bad going. I have another 24 hours to go, fingers crossed that a few more come our way. The wind (with any luck) will actually finally pick up and a band of rain is due this morning, this should bring on the carp.
The wind has definitely picked up and the rain arrived for a few hours. Let's hope this stirs them into life before the afternoon sunshine. I'm looking forward to some sunshine as we have steak, chips, mushrooms, and onions for lunchtime and I don't really want to eat or cook it in the bivvy.
My next take was about 1130 to my right-hand rod. This one was like playing a torpedo and very nearly picked up Ian's right-hand rod, but I managed to avoid it and turned the carp away, back along the margins and into the net.
Some of these carp have huge tails, which give them an extra amount of power. It makes them fantastic carp to play, despite the size!
As this was possibly our last session for the year on here, plus Ian only fishes day's over the winter months. So, Ian had sorted out some nice steak, I had brought the Weber and mushrooms, onions, and chips, so we could have a cracking lunch.
It did look good and tasted just as fabulous as well. We were lucky with the weather as it was forecast to rain but held off until after lunch. However, it eventually arrived and rained on and off over the following hours. This was a real shame because sitting out on possibly the last night would have been just perfect. By 1600 hours, it was feeling pretty cold outside and I was forever hopeful we would get the chance to get a couple more carp this afternoon/leading into the early evening. With our recent success over the dark hours, it would round things off nicely.
Instead of spombing, I sticked some 20mm Classic Corn Boilies over all the rods, as we didn't really wish to spook anything out there feeding.
Just love rainbows over water, when you can get the reflection in the water, it's even better
Morning! It was a bleep-free night for me, I've not slept so well on the bank for weeks. Ian on the other hand managed an 18lber around 11pm last night.
He was kind enough not to wake me, I was also surprised that I didn't wake up because I generally do, I must have been very tired.
As it is very possible our last morning on here, I put two fresh baits out at first light this morning, just as something different to try, as you never know here.
The sun is up and it's looking gorgeous, with the autumn colours.
That was it no more fish for me, I left Ian still packing up, as I need to get home, hopefully, he may bag just one more before home time. He certainly did get another one a 14lber, that was a nice finish 4 carp each.
Until next time
Richard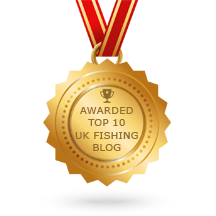 Use my code for 10% discount
Advertisements
REPORT THIS ADPRIVACY
The discount code applies to the entire order when purchasing the Deeper Sonars PRO, PRO+, PRO+ 2, CHIRP, CHIRP+, CHIRP 2, CHIRP+ 2. The code is valid in all countries.
CODE = DEEPER-H-9OCSF
Get 30% off WW5KFTK @checkout
➵ UK'S BIGGEST FISHING PARTICLE SUPPLIER