Yesterday, I managed to do the only job of today that I was due to do, which in turn meant I was able to get down the lake for a few hours today on my local club lake. Make hay when the sunshines they say!
There were just 3 cars in the car park when I arrived at about 9am. I wasn't in a rush, I like to let the day anglers set up first, which then gives me the choice of where to fish and position myself away from them as much as possible.
My first swim was on the west bank – finally, the lily pads have died down enough to fish near them without worrying too much about losing any carp.
I was going to give it an hour (ish) and then move on if I felt the need. There were certainly carp mooching about in the pads, but would they feed with me being so close this time of the year? Normally people cast across, until the winter months and then these swims see a bit more angler pressure.
You can see that the grass hasn't been flattered whatsoever, telling me that no one has fished here yet.
By 11am I was in my second swim – after seeing a carp show along the margins a couple of times. I just had to move into that area and give it a go. Maybe, there's still too much natural food about.
I keep on trying and hopefully, I will get there at some point over these 5 hours. It's just about noon and this gives me 2 and a half hours to get a bite.
The Island rod rattled off, it was doing its best to get into a small bay area which is littered with snags. I avoided that, it was now heading right but running towards my margins, I was perfectly ok with this until it found a snag under a bush to my right. I put the rod on the ground, loosened the clutch, and hoped it would head back out into open water. No such luck.
I got my other landing net pole out and proceed to poke around in the margins, in an attempt to spook the carp out. That wasn't overly successful. It was time to pick the rod up and see if was not so stuck and as luck would have it, I gained ground! A branch broke the surface, and the carp was still attached. I stuck the net as deep as possible, guided everything towards the net and scoped the lot up, branch included.
That will certainly do me.
I wasn't really sure what to do, move or stay. I'd spooked another by the island, which means they are moving around it, there must be a chance of another one. I also hadn't seen any other signs which would draw me to another area.
I didn't really feel the need to move swim. However, I was able to set my buzzers up in the next-door swim and turn the right-hand rod into the left-hand rod, just by lifting the line over the bushes. I was then able to reposition the new right-hand rod, just off some bushes on the side of the island. This rod rattled off within 10 minutes. Unfortunately, the carp found some underwater obstructions and the hook link parted instantly. With a new rig on, I was back out there, but this time more to the right, hopefully giving myself a good chance of landing the next one.
Nothing else happened and it was soon time to get home and start cooking tea for everyone.
Until next time
Richard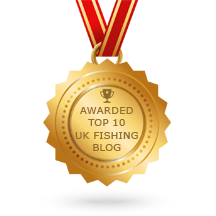 Use my code for 10% discount
The discount code applies to the entire order when purchasing the Deeper Sonars PRO, PRO+, PRO+ 2, CHIRP, CHIRP+, CHIRP 2, CHIRP+ 2. The code is valid in all countries.
CODE = DEEPER-H-9OCSF
Get 30% off WW5KFTK @checkout
➵ UK'S BIGGEST FISHING PARTICLE SUPPLIER