The family has a fantastic two weeks away in the Emerald Isle.
The beauty of running my own part-time gardening company is that when the weather is rubbish for gardening, it happens to be brilliant for fishing! The weather has finally broken and we are having a week of heavy rain showers and thunderstorms. After getting wet the past two days at work and the rest of the week looking rubbish for gardening, I was off down the lake for 4 nights – thanks to the understanding family I have.
The weather forecast for this morning was scattered heavy showers. I was up by 6 am, but it took until 8am to get all the kit in the car, it's like a monsoon season out there! I'd worked out that if I arrived just after 9am there would be a gap in the rain over the lake. I discussed with Ian yesterday afternoon about the weather conditions and the lack of water in the lake at the moment (due to the hot summer). I had not seen it this low in years.
Our options were a bit limited, if we wanted to fish near each other (which we did), as it had been some time since our last social. We constructed a plan/strategy for where to head for first and so on if they were occupied and how we would fish them. This was based on the knowledge we had put together over the years. I then spent the afternoon looking on my Fish Deeper Page and also planned to drift my Deeper Sonar about over the course of setting up and continuing looking, just to see if the carp had been digging around in the silty water. I didn't find any of them but found this pukka spot in Ian's swim.
I'd found something similar in my swim, with the marker float, but the wind wouldn't let me drive it that far out. It was beyond casting range.
Our first choice was free. Straight away, it was clear there was plenty of carp about. I'm hoping that the lack of water will bring the fish and in particular, the bigger ones close to me and move them out of the large sanctuary area they so love to hide in.
I was happy with this swim as there were more open water and the horrendous bars that are now sticking out of the water, aren't too close by. They would've been in any other swims. I baited up the spot I'd found, with about 3 kilos of Smokey Jack and Classic Corn Boilies which had been soaking in Sf Finamino since Monday. I'm glad I started my bait prep early this week, at the time I'd no intention of arriving before Thursday lunchtime!
It took me until nearly 1 pm to get all sorted as there are shattered showers everywhere.
Ian is due to arrive tomorrow morning, I'd have the first night to myself. I'd already decided to have a bait in the margins – if I was lucky enough to get in a swim that had the features I was looking for. I opted to stick a solid bag out with no freebies around and then, reel it in when Ian arrives. Depending on how I feel about it, I will no doubt stick that bait along my left-hand margins, which could be problematic as it has some interesting overhanging trees along it. However, with the drop in the water level, I'm hoping the carp will simply run out into the deeper open water, instead of back into the undergrowth.
It was nice to finally settle down for my first brew of the trip and I'm still be seeing plenty of carp about in my area. Fingers crossed for the first evening and night.
Other than the heavy rain showers overnight, it was carp free and we had no more thunderstorms, which was helpful. Ian is due down around 11 am and a day full of shattered showers and sunshine is forecast.
It will be problematic for Ian to set up, without getting too damp. He is probably going to take a few hours to get it all sorted – this is the beauty of fishing a long session. There's no real rush and you can make sure everything is just perfect and spot on.
Ian arrived just before 11 am and managed to get his bivvy up and bait out before the heavy showers arrived.
Unfortunately, his rod would have to wait until there is a gap in the showers, looking at the rain radar, it was likely to be sometimes.
The night was pretty much rain free, once the afternoon, and early evening rain had passed over. I had a funny take around 7 pm, which resulted in me picking the rod up and pulling into thin air. I'd no option as the bobbin had moved up and down a couple of times.
It was a glorious start to the day, there's a band of rain due around 10 am until 1pm and that would be it. The wind was also swinging around to the west and then the northwest, this is perfect for this swim. I'd been waiting for it to happen and hoping the forecast wouldn't change.
I was on the phone with the wife and the left rod was away, this was about 10 minutes to 9 in the morning, and without much of a to-do, a lovely low double was in the net.
Not a monster, but a carp, No 50 for the year, plus a carp in September, I do like to try and capture a carp every month of the year, I don't tend to set myself targets these days, but that one does stay and it's only a bit of fun.
With the bait back on the spot, it was time for a quick brew and a chat with Ian, before the rain arrived.
These fish have got to have a lot more life in themselves after this rain and be heading for a good munch.
The weather cleared up in the afternoon for a little time, long enough for Ian to get a take, unfortunately, it fell off, like they do here!
That was a real shame but it gave a great deal of hope for the coming night. There was a lovely sunset and the odd carp showing, it was looking perfect.
Two bleeps were my reward from last night. These carp are proving very tricky at the moment to capture. They aren't shy about showing themselves all over the place, as they generally do.
Today was going to be full of sunshine and clouds, or should I say more clouds than sunshine. We took the opportunity to have a good walk around the lake and take notice of where the bars are situated. You could even see the channels between them, plus some of the huge boulders that are out there that I mention a lot. The lake levels are down about 3ft at the moment.
This makes the lake what it is and the challenges that come from these obstructions, which litter the lake bed. Over the years I've learned where most of them are and how to deal with them in each swim, but it does become frustrating at times.
We arrived back in the swim just after 2 pm and had all the rods on the spot by 3 pm.
I had a couple of single bleeps and at one point the rod tip knocked through the evening. Just before 9 pm that rod rattled off, with what felt like a nice lump. It headed off to my left, towards the overhanging trees along the margins. I had no option but to try and slow the fish down, it also managed to pick my left-hand rod line up, which wasn't too much of an issue really. I had walked down the bank to get Ian's attention to pick the other rod up, before I need to land the fish. At this point, I was heading back towards my swim and able to stick the rod tip under the water if necessary, the hook pulled out and that horrible sinking feeling kicked in.
Soon the rods were all back out and sorted once again. I never like to dwell on these things, I just spend a few minutes thinking of how I could have done it differently, analysing it helps to understand it and put anything learned into practice for the next time.
Just after 11.15, Ian's right-hand rod was away and this carp's behavior was so much better than the others, with a minor hook up on the other rod, it was mostly played out under the rod tip.
It was a most welcome blank saver for him.
I was up quite early, as I like to spend the last morning soaking up the atmosphere.
It certainly was a spectacular morning to be on the lake, unfortunately, Mr carp, still not playing ball and it was soon home time.
With my first trip back after the summer break, Autumn is certainly coming first, there was plenty of dew on the bivvy this morning, it is time to head home.
Until next time
Richard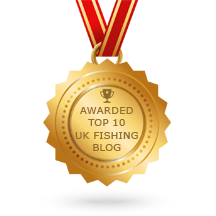 Use my code for 10% discount
The discount code applies to the entire order when purchasing the Deeper Sonars PRO, PRO+, PRO+ 2, CHIRP, CHIRP+, CHIRP 2, CHIRP+ 2. The code is valid in all countries.
CODE = DEEPER-H-9OCSF
Get 30% off WW5KFTK @checkout