I'm back out after a couple of weeks off and the conditions aren't too bad at the moment. Unfortunately, the pressure is going from 1017 to 1030 in 48 hours' time and I'm wondering already if the 3 nights would be better off spent at home! I'm due out for 4 nights next week, the weather at the moment looks shocking, with another heatwave heading our way. As for now, the wind is pushing nicely from the north (into my face) and cooling down the bivvy nicely. The wind is like this for the next few days, which is giving me a lot of confidence for the coming nights.
After a good wander about and only finding 3 other anglers, with not a single sign of a carp. This was until I stepped into this swim and with the wind as it was, it fitted in nicely with my plans.
Keeping cool in the bivvy this afternoon.
The sun was setting behind the lake, absolutely stunning as always.
The wind picked up overnight and I was surprisingly cold at one point until I got into my sleeping bag for the first time in months. Perhaps Autumn is coming? Next week's weather isn't reflecting that yet.
My first take happened at 0245 on the right-hand rod, you forget how fast these takes are on this lake and the speed of the carp. It desperately tried to get into the snags to my left, but I held my ground and the fish was soon in the net – without too much trouble in the margins.
Perfect start, 21ln 5oz of Airfield Lake Common. A new bait was on and back out. It was nice to get back in the bivvy and into the bag, that wind had a nip to it.
Out of the sun, but not for long. I topped up the swim around 2pm and put some fresh baits on. I settled down to read my book in the shade of the trees and the wind was still pushing into my back. It was a lovely day.
After another stunning sunset, it was time for bed, early than last night, in the hope another rod would rattle off at some point overnight.
2330 and we were shocked into action, by a screaming alarm with a very angry carp, who headed for the margins with no real issue. It then insisted on plodding up and down the margins for what felt like a lifetime, I was desperately in need of a wee!
It eventually gave up and slipped over the cord.
That's another one to add to the list this year. Certainly happy with that. With that, another bag was back on the spot.
I was back in the sack hoping there was a good chance of another take at some point, as it was just past midnight.
I finally drifted off at some point and woke to a couple of bleeps. I was out like a shot as the bobbin had dropped down and sure enough the fish was running towards me. I grabbed the rod and slowly pulled into the fish as I was walking backward, it immediately splashed on the surface and came into the margins still running towards me, trying to gain as much line as possible in order to kite to my left and a lovely overhanging tree.
They are so wise here to every element of their surroundings, it's amazing we land some many fish!
After avoiding these, it was happy to charge about in the margins. At this point, I really thought it was a mid-double, due to its behavior, but after nearly getting to within a foot or two of the net, it powered off and down, and the whole battle changed. It was as though it was a completely different fish, I never really saw the carp, it just kept feeling heavier and more stuck to the lake bed. I immediately changed my approach to playing a much bigger fish to one of the wild 10 lbers and over time I was gaining ground, getting it up from the bottom and closer to the surface. As the margins are very murky due to the wind, I'd only seen a glimpse of the fish at this point, until it broke the surface and it rolled over the cork first go. Much to my surprise, it looked like a nice fish and the biggest of the trip.
I didn't think it was going to be that big when I first picked up the rod and it flapped on the surface, they generally turn out to be 10 lbers on here who do that. It just goes to show you how wrong you can be sometimes on this lake.
Well happy this morning and with another night to go, you can only hope for more.
Enjoying the view this afternoon, out of the sun in the bivvy on the bed, watching the water.
The sunset on the last night wasn't so spectacular, that should have told me something. All I received was a single bleep last night and with an early pack-up due, it was a surprise to wake up to my alarm. Conditions still looked good and the night was still very chilly, the only real change was the pressure had risen to 1027 which may have pushed them away.
There's an incredible amount of floating weed about, which is also interesting as we have not seen that before. It's amazing how things can change on water from year to year and these simple things can affect the fish's behavior.
It's time to get things packed away and head home. My next trip is going to be interesting, I've planned a four-nighter with Ian, just had another heatwave arrives. The media will be going crazy again, it's not ideal fishing weather, but this trip is more about a social. I can see it will be hard going, but the thing is you just never know with carp fishing.
Until next time
Richard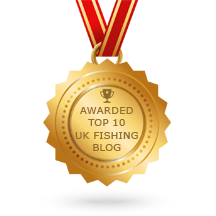 Use my code for 10% discount
The discount code applies to the entire order when purchasing the Deeper Sonars PRO, PRO+, PRO+ 2, CHIRP, CHIRP+, CHIRP 2, CHIRP+ 2. The code is valid in all countries.
CODE = DEEPER-H-9OCSF