I had the opportunity to come down on Wednesday late afternoon this week. I wasn't really sure about fishing this week, however, a few fish had been coming out, and this gave me a bit of confidence. I was keen to get in the Daisy swim, which is to the left of Badger island, Ian and I have been watching fish for the past week in a particular area.
I arrived just after 5 pm to find probably the only angler on the complex packing up from that very swim. That'll help to see if the carp are still in that area and sure enough, I could see them myself. He had had a few during his day session.
My big issue was the heat of the coming few days and whether could I deal with it or not. I checked the forcast and there's a good chance of a reasonable amount of wind from the North again. I drove around to Badger Island and looked in the first swim in order to consider fishing that spot from this lovely shaded swim. I felt that I was likely to lose anything I hooked, plus it was really was the Daisy Swim water and I like to think I'm pretty considrat to other anglers. I really felt I should be in the Daisy Swim and if the first 24 hours were horrendous, I would have to move early evening Thursday, after the heat of the day passed.
I'd been thinking over the week about what to do if I did fish it – regarding baiting up. Clearly, the carp are here and feeding, despite as far as I'm aware, no bait being introduced. Bags could easily go off course and end up on top of this small plateau I'm fishing around and the swan would love that. This also goes for my spombing skills! I decided on single hook baits with a small scattering of sticked out boilies. I also need to keep an eye on the areas Ian and I had baited up last weekend, – just in case they finally fancy a feed after last week's epic fail
I was all sorted by 8pm. I sat watching the lake with a lovely cool breeze blowing my way.
With a few single bleeps early on in the night, I drifted off to sleep feeling confident that something would come my way over the course of the night.
That was not the case. I wondered if I needed to think a lot more about my bait positioning over the coming day.
The sun had appeared over the New Forest, with a gentle breeze and hopefully continuing throughout the day and keeping me cool as much as possible.
It's just before 3pm and I have a nice breeze blowing in my face, I'm surviving in the shade of my bivvy pretty well. The carp are really doing my head in, I just can't get them to pick up bait, this is despite my best efforts. I switched around hookbaits over the course of the day, in between when the carp drift by. I decided, as long as no one goes on the island, I'm going to fish into the area we normally fish from the island. I don't believe there's a great deal to be gained by putting the rods around the plateau at night, due to the lack of action and I believe I witnessed their return this morning. How I tackle tomorrow, is really something I need to put a great deal of thought into; whether I sit it out trying numerous options or just knock it on the head, go home and regroup (waiting for better conditions). There's clearly something about that spot that interests the carp, it could be overwhelming full of natural food sources, or I've just not got all the elements correct to get a bite.
After some thought, I decided to move to Badger Island, as after 24 hours of various combinations of hook baits those carp can do one! I would've gone home tomorrow morning if I had still been blanking and I'm sure that would've been the case. This way around I will be happy to stay two more nights.
Tea was on the go by 1930, and with most things sorted out, it was nice to relax again. You wouldn't think it takes so long to move swim.
I put a few spombs out and tied new rigs, flicked them out, and started to relax.
I'm hoping after seeing carp over here this morning one of these rods will burst into life overnight.
I'm glad I'm in the shade with the wind blowing in my face today. Not a bleep last night. I'm going to leave the rods as they are and wait until I get a pick-up or it is packing up time, there's no real point in changing anything.
As the last night draws in, I sit cooking tea on my Weber and look at this wonderful view, thinking will I catch actually but if I don't it's been a very relaxing and calming few days, watching the lake, along with nature and completely avoiding the news – which is so full of doom a gloom. I really wonder why I listen to it anymore.
That's it morning and packing up time, I need to be pretty prompt at getting home today. I'll be back in a couple of weeks, as it's school holiday time. It's a shame it's my 6th night blanking, but these things happen and I will be back full of enthusiasm, as always, hunting for those unknown lumps.
Until next time
Richard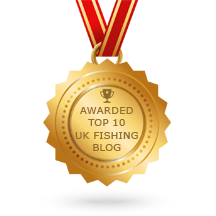 Use my code for 10% discount
The discount code applies to the entire order when purchasing the Deeper Sonars PRO, PRO+, PRO+ 2, CHIRP, CHIRP+, CHIRP 2, CHIRP+ 2. The code is valid in all countries.CODE = DEEPER-H-9OCSF