This week the weather isn't looking particularly great, but with any luck, the north winds will keep the temperature down and I could be in with a chance of a bite or two.
I was hoping to fish somewhere different, but with the prospect of 25+ degrees C, if it actually materializes, which so far this week isn't until very late afternoon, we could be ok, only time will tell each day.
I'm back in the same swim as last week, because the only other areas we fancied – which were dictated by plenty of cover, were already taken. I did fancy being with the north wind in my face, but that area was already taken as well. As you know I'm quite fond of this swim and this area of the lake.
I like to try and keep as much of the vegetation as possible intact, but it's a little tricky at times. This week, I've got some flaked maize that's been soaking up the Catalyst syrup for the past 10 days and smells absolutely pukka, this should float down nicely at settle on top of the silt and push out a load of attention over the next few day's and get those carp digging about.
I switched over to 12mm White catalyst pop-ups last week and I'm going straight
Nice morning to be able to sit and watch the world go by, on the day after Boris Johnson resigned, without all that media hype.
No action overnight, which isn't too dissimilar to the past few weeks on the bank, we can only hope that it pan's out to be a similar session. But with the pressure over 1030 MBs, it could prove to be a tough one. I've followed the same routine as the previous trip, where the carp moved on over the next 48 hours, as they have done previously.
It's coming up to 2 pm and the carp are just not tempted to pick anything up yet. I'm going to reel in soon, and head over to Ian's swim for a bite to eat and a drink. I will re-do the rods with a different color hook bait, just to see if it spurs them into action. I'm debating whether a wafter may prove to be more effective, there's no lack of carp showing, just can't get a pickup.
The sun has now gone from my swim and it's a lot cooler. I'm glad of my portable USB fan and Anker power station.
Both amazing bits of kit and the Anker keeps all my Tec stuff fully charged for a good few nights, not flattered yet over my three-nighters, the winter months will be the real test.
This morning the sky is cloudy and a lot more wind and the prospect of the angler on the third Badger Island swim heading off today. I think this could be a contributing factor in me still not catching, will see later on today/tonight. I sort of feel that swim cuts me off by blocking a couple of channels into the sanctuary area. I'm sure they still come through, however, they may be a bit weary of things more, as the carp are still very active off the island, around Ian's swim, and out in the more open water areas.
The conditions today are so much better and has lifted my confidence levels up over the last 24 hours.
Just back from a few hours in Ian's swim, baits spot on, I can only hope that the last night brings all the components together and we catch a few each. It has been hard going, but neither of us like the heat, which dictated the swim choice and we are happy with that. Unfortunately, this can result in not the best captures, but that's the way it's got to be with fair skin. It could be so much more of a disaster this way around, we both enjoy our time on the bank, having a great social, much more relaxing, and may catch a carp.
Stunning morning, I've been up since before 5am hoping to catch something, despite the carp out there and around my baited area, it's a blank this time and as long as the temperature doesn't go higher, I will be back out for one more go next week, before the school holidays kick in.
Until next time
Richard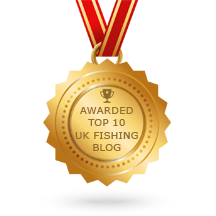 Use my code for 10% discount
The discount code applies to the entire order when purchasing the Deeper Sonars PRO, PRO+, PRO+ 2, CHIRP, CHIRP+, CHIRP 2, CHIRP+ 2. The code is valid in all countries.
CODE = DEEPER-H-9OCSF