If you are planning on fishing over the winter months, choose your venue to suit your needs, once you've started your campaign, you will only make it a lot harder on yourself by moving waters.
The key factor in successfully catching carp over the winter months is definitely motivation, without that, you will find the long winter nights and cold weather hard going. It's extremely hard work setting up in the dark and cold – consider this when picking your venue, along with how many nights you plan on doing each week. A single night and then head off to work in the morning, I've spent many winters doing two or three single nights each week. Believe me, you certainly need the motivation to set up and pack up in the dark, don't forget you could be blanking a lot. If you choose to do a couple of nights in a row, you still may need to set up in the dark on the first night, and carrying extra kit for winter can make this a lot harder. A tip I've learned is only to take the basic kit you need to your swim on the first night and then collect the rest the following morning. If this isn't an option just take less kit, it's amazing how much you don't really need.
Pick your venue with the above in mind, a long walk to set up in the dark came to be very hard going and you will be doing this all winter long. Oddly, a walk back in the dark was less of an issue for me, as long as I'd set up in the daylight. A trick I discovered, once you were all sorted, had a bite to eat and the last drink of the day, pack it all away. It simplifies the job in the dark/the following morning and is less of a bind.
The ideal solution is to find a venue with parking around the lake or even the luxury of parking behind your swim. The car park swim is always a favorite and over the winter months, especially on weeknights, is generally empty, fishing out of your car is a real bonus over the winter. Being organized helps. Getting into the same routine every time you set up and pack away, it'll become second nature to you. One winter, I would do a ninety-mile round trip for a single night, set up, and pack away in the dark. My reward was a spectacular mirror at the end of February.
Setting up in the dark is easy, you're not really in a rush, it's already dark. If you've done your homework or even been fishing the venue all summer long. You know the swims and the layout of the water. You may, if you're lucky, know where the carp are and get a head start on other people. If you're new to the water, pick a swim which gives you the opportunity to watch large areas of water. Don't forget to lean out in the early hours, I often will have a brew at 1 am and just listen for carp. They love sticking their heads out in the long dark hours of winter. If you're in the swim with a good vista you can find them and then go catch them the next time. Winter fishing can be very wet cold and damp, with lots of mud, higher water levels and can be extremely hard going when you push your barrow up and down long muddy tracks in the dark.
Baiting up and casting out is simple, make note of all the horizon makers before winter sets in and look out for the shadows on the water. The beauty of winter is all those crystal clear sky's, with a little bit of light pollution in the mix, it can be amazing how easy it is to pick out the spots. As long as your casting skills are good, you will build up your confidence so that you can arrive in the dark hours, cast out, bait up with great success and you will catch carp. Comfort is the key. I've written about this plenty of times before, if you're not enjoying your winter fishing, you will not last. I spent many a year under an umbrella doing single nights and after a fair few years, I realized that a full-on bivvy was so much more comfortable. Forget about the hardcore anglers, just use a bivvy. It completely changed everything and with the simplicity of modern bivvy, it's a lot easier than it was ten or more years ago. Take a hot water bottle if you get cold in your sleeping bag, the modern ones should do you well. Forget the days when I would get two sleeping bags and put one inside the other. Use a bivvy heater for the hours you are sitting in your bivvy, you can't be laying there in the bag for hours. Just make sure you don't fall asleep with it on and definitely make sure you have some ventilation. If you really want comfort, then use a piece of carpet or a thick picnic rug. I also place my rod bag and bivvy bag around the inside of the bivvy, this reduces the drafts and keeps you a lot warmer. An overwrap is a must for me these days – must be an age thing, but it keeps me going these winter months. Using a letterbox door opening is perfect, it keeps you warm, but lets the gas fumes out, if you have your heater on. You can also use your stove, if you need to keep the amount of kit down to a minimum. You also can't be stuck in your bivvy 24/7, you need good footwear and warm clothing. Remember base layers are the key, more thin layers work better than one or two, as it traps the air in and keeps you a lot warmer. I sleep in a very thin pair of soft trousers and in the day stick a fleece pair over the top in the extremely cold winter days. My feet get terribly cold these days, I blame pike fishing in the winter when I was a kid in wellies. I've found that if I'm stuck in the bivvy, you need something thing between you and the floor and an old unhooking mat is perfect for this.
Once I would read for hours, now I watch Netflix, Disney, or Amazon Prime for hours on end. This oddly does help me stay up more and listen out for those carp in the middle of the night. It goes without saying eat well, drink hot drinking and there's plenty of good warm clothing on the market these days, unlike the '80s and '90s, it was hard going then.
My knowledge of winter fishing has been gained over the past 40 year's of fishing and some years have been harder than others. Simply because of the amount of effort needed to get to the lake; from walking up and down a mile-long track in the dark three night's a week, to simply fishing out of the boot of my car. You have to do what's right for you and not others. As I said at the begining, motivation is the starting point and it all builds from there. You will still have to work hard at finding the carp and using the correct bait application. Simply put, if you're not enjoying it, you certainly will not be fishing at your best and no doubt not catch to your full potential. Winter is one of the best times in the year to fish, fewer anglers on the bank for me makes it just perfect
Hope this helps you catch some good lumps and inspire you to get out on the bank.
Until next time
Richard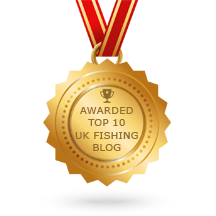 Use my code for 10% discount
The discount code applies to the entire order when purchasing the Deeper Sonars PRO, PRO+, PRO+ 2, CHIRP, CHIRP+, CHIRP 2, CHIRP+ 2. The code is valid in all countries.
CODE = DEEPER-H-9OCSF