This will be my last few nights on Meadow Lake. I very nearly headed down to Airfield Lake, but as Ian pointed out on the phone this morning, discussing our options, this will be the last chance for a monster or two before the battle against the 15lbers to capture an Airfield 30. The ratio is much better here (Meadow Lake). You are certainly up against it there.
There was really no other /better option than returning to this swim, after my results over the past 3 weeks. So, that's what I did. There were 8 other anglers on when I arrived and by nightfall, it was 10! I'm hoping this doesn't affect the fishing too much.
The afternoon was spent in the sunshine with a couple of glasses of red, and then it was tea time (cooked on the Weber).
This is certainly the lifestyle I like. It seems a lifetime ago when the UK was put into lockdown and I was forced to stay at home. It seemed to last forever at the time.
The sun was setting, and we were heading into the first night, full of anticipation of what was to come (after what has happened in the last few weeks). We'd seen plenty of carp activity over the whole lake today and there's every chance of a bite tonight.
The night was a non-event for me, I'm not sure about Ian yet, as he has not made contact with me this morning. Hopefully, we are still in with a chance for a morning bite. I have a feeling the guy to my right is cutting the fish off from my spot unless they approach from a different direction. He is off today and that should up my chances. My long rod should hopefully pick up any fish coming off the plateau and is well away from any other anglers. This is my reason for putting that one out there again; despite the lack of action over the past weeks.
With the lovely sunny day not producing anything, I changed over my hook baits and got them back perfectly on the spot. Fingers crossed for a bite tonight.
What a stunning evening it is, I wonder if the carp will come out to play. It's certainly looking like it could be hard work this week, fingers crossed for tonight.
Well, another night passed by with no action, which really isn't good news. I need to put some thought into how to approach the last night of my trip, try to turn things around, and get a fish on the bank. It would be nice to get one more before the lake closes at the end of March. I'm unable to return before that, which means today and tonight will be my only hope.
The last day went by (as always) peacefully in the sunshine, with fewer anglers and the ever possibility of a take at any moment. I opted to not put any more bait out and not even reel my rods in. I'm 100% confident they are all perfect and the least disturbance out on my swim the better. I'm up early tomorrow morning, it's Mother's Day (in the UK) and we will be off to the seaside to visit my Mother-in-Law and then out for tea.
Well, that was a pretty rubbish 3 nights on the bank for me and Ian. I was up early and home by 8am. Ian messaged me that he also had no bleeps last night, he has a few hours left, so I'm even hopeful that he will catch before he reels in.
Until next time
Richard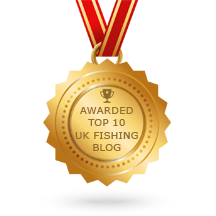 Use my code for 10% discount
The discount code applies to the entire order when purchasing the Deeper Sonars PRO, PRO+, PRO+ 2, CHIRP, CHIRP+, CHIRP 2, CHIRP+ 2. The code is valid in all countries.CODE = DEEPER-H-9OCSF