I'm very lucky to be out this week at all, the three other members of the family are ill. One with covid for the second time, which is my youngest, and the earliest she can go back to school is Monday. I thought I was stuck home until Friday afternoon until the MD of the wife's company told her to go home and work from there. The wife is pretty rough but is testing negative for Covid, she is old school and goes to work unless is she can't physically get there. My eldest has a raging cold and is still going to school (trying to get her into the old-school ways too).
I arrived at 8 am, I was up early and half expecting to have to head over to the Airfield Lake, but the Meadow was completely empty. After spotting a couple of carp show in the Gap swim and Stumps, I call Ian for a chat and the choices were made – as long as no one fancies the swim Ian chose before he gets here. As you know, I'm not one for reserving swims for hours, maybe the odd 30 minutes if I know he is around the corner stocking up on supplies e.g my pasty he kindly brings down every Thursday with him, all hot from the shop oven.
I stuck to the same spots that had produced me carp the last time and baited up lightly to start with We will see how active the carp are. We are using the same hook baits as always, and we shall see how the next few nights go.
What a stunning evening, I sat with Ian, watching the sun fade away with a glass of red.
The right-hand rod rattled off just before midnight with a lovely carp in the night, after a quite straightforward ride under the rod tip.
Absolutely stunning carp. I got the rod back out and sat writing this, listening to a carp crashing out. There's hope for another fish tonight.
My next take happened at about 1230 am, as I was about to take off my wellies and get my head down. This fight was definitely different, I was very mindful of what happened a couple of weeks back when I had a hook pull, but I was determined that it wasn't going to happen again.
What a beast of a common and certainly made up for the hook pull a few weeks ago, and my confidence was pretty high, and the possibility of a couple more carp was looking good.
My third fish of the night was on the long-range rod just after five-thirty am, and it was nice to be playing a carp in the moonlight
Which was now in front of me. I watched it rise last night and laughed at Ian, saying it's a big common tonight, as I generally blank.
Finally, not the case last night, and after getting the rod out and the kettle on, I watched the Moon setting.
Once the misty morning goes, it's going to be a lovely sunny day.
I tried to get my head down and may have drifted off, but the buzz of it all kept me awake, and the next thing was, Ian, saying, get up you need to help me weigh a carp and take some photos!.
He was well over the moon with that, and on the subject of moons, we both had caught on a full moon, which was a first.
As we were up early and the sun was shining, it was time for breakfast.
Burgers, onions, and yes, we can have mushrooms this morning. All washed down with a fresh pot of coffee, hot off the stove.
I'd seen a carp show a bit to the right of where my right-hand rod was and stuck a single hook bait on its head. I was hopeful of a take in the morning, which wasn't to be. I felt it was close to where the carp had been showing and worth moving a bait there for the night and binning of the range rod, in the hope of bagging a few more carp. I drifted the Deeper about looking for a feature in that area, but alas just a late bottom. It was time to lead about with the marker and see if I could pick up the odd tap of gravel, after about 30 minutes I felt a couple of taps. I let up the marker and led about in that area and found it to be the perfect spot.
Ian fell asleep in the afternoon sunshine, and I cooked up an early tea.
We sat and watched the day go by. I had to pop off to the bivvy for a 'carp nap' as I had been up half the night and woken up to the lovely sunshine glow in the bivvy door.
It was an absolutely gorgeous evening, and it was light too well passed at 7 pm, and with British summertime next weekend, spring will be fully underway.
We shall see what tonight brings our way.
My right rod was away at four-thirty in the morning, and it was my first tench of the season. They are lovely fish, but not that much fun on carp tackle. Carping Kev is fishing on the opposite bank, and he was playing a carp at the time, and I could hear the YES as it went in the net, keep an eye out for his latest video.
When my rod was back out, I got back into bed to grab a few more hours' sleep.
What a lovely sunny morning, the wind is from the east, so there's a bit of a chill, but it will soon warm up, and by lunchtime, it will be lovely.
It was soon time to get the last of my bait out, sit back, enjoy the afternoon sunshine and get some food inside me.
Lasagne and Chips tonight on the Weber. That certainly filled me up; it is now time to enjoy the evening sunshine.
It's really feeling like spring today. The birds are singing their hearts out, and the carp are finally starting to munch.
There was an amazing sunset to finish the day off
Morning and packing up time soon arrived and without a single bleep for me. Ian was lucky and had a bleep, which turned out to be nothing more than that.
It's very strange to catch on the first night. The fish appeared to be more active; however, they may have simply been cleaning themselves.
I'm not sure if it will be Meadow or Airfield Lake next trip; we shall have to see where we end up.
Until next time
Richard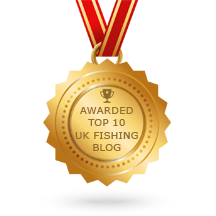 Use my code for 10% discount
The discount code applies to the entire order when purchasing the Deeper Sonars PRO, PRO+, PRO+ 2, CHIRP, CHIRP+, CHIRP 2, CHIRP+ 2. The code is valid in all countries.CODE = DEEPER-H-9OCSF