I'm out on the syndicate for a couple of nights again this week. I'm doubling up with Ian this week, I've purchased a Weber portable gas BBQ, and we're going to test it out.
We weren't really sure about the swim choice after last week's trip when I caught and he didn't. We've based the swim choice on the weather and the ease of packing up in the rain Sunday. I've always maintained that when you don't really know where to go and the carp are playing hardball, go for comfort. This will bring you happiness and then confidence, even in the hardest of swims, you can catch when your confidence levels are high.
The wind was from the South East for the majority of the time; the pressure was due to slowly drop, and with a mixture of Sunshine and rain, it was looking good for the coming few days.
I arrived just before 9 am, had a look at the swims we fancied and gave Ian a call to discuss the options.
This was the swim we decided on and hoped our thought process would pay off. Fingers crossed, we would both land a couple of carp or at least one each would be nice.
I'm fishing the right-hand side of the swim, but not too close to that tree line, despite pitching up on top of my rods. I've baited up with a mixture of 12mm CC, 15mm Cat, and some Maize soaked in Liquid Red. I was fishing a 12x15mm CC wafter with a 12mm PPS pop-up.
It's going to be a rainy day today, until around 1 pm, and then with any luck, some sunshine. We had no action in the night, which was a bit of a surprise, as I was quite confident that one of the rods should have rattled off. I was half expecting my 7.30am bream take this morning, but this never arrived, maybe they are further out into the lake, I'm not as far out as previous trips in here. I didn't think that area was an option this time as I felt like I needed to be nearer to the channel which leads into the sanctuary area, so I'm able to intercept them when they exit.
I spent most of the day on the bivvy with light rain, it finally stopped at about 4 pm.
It was my first go with my new Weber portable gas BBQ and was very happy. I hadn't tried doing this type of food before or even a gas bbq.
I had a friendly Robin watching over me. Once I had filled up on food, it was time to top the swim-up and get some fresh hook baits out for the next 24hrs.
I was up early, thanks to a pair of roosting geese by the tree near Ian.
It's amazing how much noise these Geese make – all night long. This was the only noise of the night, the buzzer was silent again, which is turning into the norm here at the moment.
Not long after getting up, the rain was about again, but only until around 9 am, and then it's supposed to be sunny all day long.
Maybe this rainbow will help; I need something at the moment – LOL. I believe winter is over, there were 11 anglers on last night, which means spring has definitely arrived., and the winter tranquillity is over. I'm really trying to stay on Meadow until it closes on the 31st of March, but at this rate, I will be on the Airfield Lake sooner than expected.
There's a lovely warm glow about today.
The sunshine is tantalizingly close, but the rain keeps pushing it away. I wish I was on the other side of the valley.
Late breakfast/early lunch and a glass of red in the sunshine were perfect, and a good bit of afternoon sunshine. Unfortunately, the South East wind was a bit fresh and the hope of the water warming up was not looking great.
I used up what was remaining of my spod mixture and put on fresh baits and flicked them back out, with any luck tonight, it will be the one.
Absolutely rubbish! These carp are really playing hard to get for me at the moment. I didn't even hear a carp show last night. I can only conclude that I'm in the wrong area, and the cold rain has completely but them off, it's getting hard to comprehend how bad this winter has been.
Fingers crossed for the last few hours, but daylight bites are very rare this winter! Unfortunately.
Until next week
Richard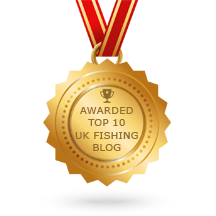 Use my code for 5% discount
The discount code applies to the entire order when purchasing the Deeper Sonars PRO, PRO+, PRO+ 2, CHIRP, CHIRP+, CHIRP 2, CHIRP+ 2. The code is valid in all countries.CODE = DEEPER-H-9OCSF