I'm on the school lake for what may be my last trip on here this winter, as the gardening will be kicking in more, and I will then focus solely on my syndicate water as normal.
I arrived just before 9 am as always, there was only one other car in the car park, which is a good sign and he was fishing just a couple of swims away from his car.
treesWith the wind due to blow from the east and after finding the tree which had fallen down the last time, was still sitting in front of the swim where I normally cast across to – that wasn't great news. However, with the complete lack of bushes, well anything really! I walked up a couple of swims and pitched up, so I was able to drop my bait onto the spot as near as I dare go to the tree and then walk back threading my way around the trees.
I dropped my bait just off the stump, about 3ft from the bank, and then scattered a few handfuls of Classic Corn 8mm pellets and approximately 10 13mn Classic Corn boilies.
My other rod was cast, with a gentle underarm cast in front of the stump, about 3ft off, also baited the same way.
I'm not 100% that this is a real swim – unfortunately, you can't really tell at the moment, after all the cutting back, which obviously will return in time.
I'm not going to complain as I've taken full advantage of the cutbacks, as it generally means I'm able to cast about more; without the need to move swims 3 times each trip.
I'd a feeling it was going to be a bit hard going today, the cold weather was coming back and the temperature was dropping, and the lack of sunshine we had been having here for the past few days.
My favorite spot didn't let me down, and before I even had the chance to sit down and contemplate my chances today ( and pray the sunshine did actually come out, as the weatherman predicted), the right rod was away and without too much of a complication with an underwater branch, I was soon playing a lovely mirror under the rod tip and gently slipped it in the net.
Wow, that'll do! I'm sure I've had this fish before a couple of times from that spot; it must hang around there a lot.
Let's hope that isn't my only action of the day.
I was almost on the verge of moving swim after seeing a carp, which wasn't that far away from my left rod (this being a small bay around the corner from the stump I was fishing). When that rod whizzed away with a baby common, this can be an issue with club water, but 4 or 5 hours put on a winter's day, 10 minutes from my house? I'm never going to complain.
I had been watching the wildlife with definitely with a spring in their step!
With the exception of this one, on its stick!
I had only an hour left before I needed to be home, time had passed very quickly, probably due to listening to fishing podcasts.
I decided to put that rod back out there, stay put and get a few more pellets around that stump.
We'll see if we can manage to bag anything else before my time is up. I'm glad the sun is out as it was pretty fresh out here.
It was soon packing up time and time to head home.
Until next time
Richard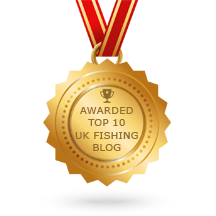 Use my code for 10% discount
The discount code applies to the entire order when purchasing the Deeper Sonars PRO, PRO+, PRO+ 2, CHIRP, CHIRP+, CHIRP 2, CHIRP+ 2. The code is valid in all countries.CODE = DEEPER-H-9OCSF