After Storm Eunice passed, I decided to head off down the lake for a few nights; however, there are still another two storms due – Storm Franklin and Storm Gladys.
It's certainly going to be fun, and I do hope that the carp get stirred up by these winds, they generally love these conditions. Once the heavy rain passes today, it's pretty much all about the wind, you will notice from my weather screenshots, it's pretty cold out, and it will be hard going for me.
The pressure was amazingly low yesterday, it will dip up and down over this week, going as high as 1028 MBs. It's a mixed bag of conditions really and very hard to judge the bait situation; it's always best to start small and build it up over the coming days, depending on my results
My swim choice was based around the wind direction, the bivvy will need to stand up to a beating over the next 48 hours. I wanted to be in a good area, however, I needed to be somewhat protected by the bushes. The big issue is that is the wind is going to swing from many different directions and I need to take that into account. The swim I picked will be an issue when the wind is blowing from the west, but there was no real way to avoid any of the strongest winds unless you were prepaid to be near some large trees, and that just not happening.
The sun was shining at one point today, but now the heavy rain has arrived, as you can see from the photo, I've positioned myself back from the swim and to the side, slightly round a corner. This is in the hope I will survive until Monday afternoon. In these conditions, I generally don't unpack all my kit, I like to keep it in the bags, just in case. I even pack away my cooking kit if it's going to be blowing strong gusts overnight, it all helps if the bivvy gets blown away!
Ian will be joining me at some point. I would say Monday afternoon after the storms have passed, as you can see from the photo, Ian had a bad go of it last year and this is still fresh in his memory. I don't blame him, really. I was a bit wary of coming, but as the family have gone away, I also didn't fancy sitting at home. I could've come last night but ended up pruning one of my trees, the best I could in the conditions yesterday as I thought it would come down!
Once the bivvy was up, I spombed out a mixture of 12mm Classic Corn Boilies and pellets, with some maize all mixed up and soaked for a few days. I flicked out a couple of 12mm Catalyst pop-ups, all just in time before the rain arrived and the wind started to really pick up.
The rain and the really strong winds are due to pass over by 1500 hours today.
The night was pretty dead, with the exception of the geese and the wind picking up a bit. I've got a tricky choice to make as the next storm gets ever closer. The wind is going to swing around to the west and pick up to nearly 60 mph.
I'm not really sure being in this swim is the right choice, the wind will be coming straight into my face for 24 hours. Actually, I'm not sure if I really fancy being on the lake in these high winds. I can fish until Thursday morning, even if I go home and come back on Monday after, I will get another 3 nights on the bank.
I'm a bit more safety-conscious these days, and I have all the time in the world to fish, and just one or two nights at home being sensible, it's not a great loss.
It sounds like my mind is made up. It will take some time to mull it over before the kit is taken down.
Common sense prevailed, and I headed home to return for another go again Monday night or Tuesday morning. As the family is away, it's also sensible to keep an eye on the house.
Until whenever it turns out to be!
Richard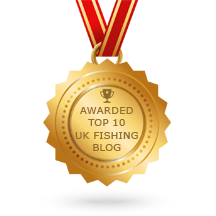 Use my code for 10% discount
The discount code applies to the entire order when purchasing the Deeper Sonars PRO, PRO+, PRO+ 2, CHIRP, CHIRP+, CHIRP 2, CHIRP+ 2. The code is valid in all countries.CODE = DEEPER-H-9OCSF