With another opportunity to get out on the School Lake, I was soon set up in the same swim as before. It just made sense to do this. I have the ability to put all three rods on spots where I would originally need to move to a couple of different swims. This was clearly the way forward – now the trees have gone.
There was only one other person fishing and he was in his normal peg – 10 (as they do). This certainly does produce carp, but not the regular big older carp, the nice dark ones that I love. I had baited up as before and was planning on sitting and waiting unless something brings me to move on.
Just after eleven fifteen, the right rod was away and I must have been too slow as it found a snag. That island must be littered with tackle. I've now moved back to the end of the island in the hopes of avoiding that happening yet again. At least I'm getting my tackle back, but for the inexperienced people, it must be very frustrating, When I fished here some twenty years ago, there was never this issue.
At twelve-thirty, the middle rod was finally away, and this felt like a nice carp. Halfway across the lake, it rolled, it was a very light-colored mirror, which I haven't had before. This made the fight a lot more interesting, especially in the margins as by now I'd seen the fish a few times and I definitely hadn't caught it before.
I was very happy with that fish, and there may be other ones I've not caught, but regardless of that, it's a lovely place to fish for a few hours over the winter months each year. With the rod back out on the spot and an hour and a half to go, there is definitely a possibility of another carp.
I had a mega drop back on the left rod, had to strike, but there was nothing on the end. I flicked it back out, but I've only thirty minutes to pack up time.
Unfortunately, that was it for me and I headed home. We shall see when I get out for my next trip, as I really don't fancy being out on 70+ mph winds, it's better to be safe than sorry and I do get out a lot, it's just not worth the risk.
Until next time
Richard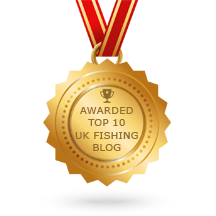 Use my code for 5% discount
The discount code applies to the entire order when purchasing the Deeper Sonars PRO, PRO+, PRO+ 2, CHIRP, CHIRP+, CHIRP 2, CHIRP+ 2. The code is valid in all countries.CODE = DEEPER-H-9OCSF