I'm on the bank again on my syndicate water for a couple of nights. Unfortunately, my days have coincided with another cold snap in the weather. The pressure is on the up, frustratingly looking a lot better on Sunday/Monday again.
I arrived down just before 9 a.m, to find a single-day angler in one of the day only swims. I took a drive and a walk about and spotted zero signs of carp. As I didn't fancy anywhere really, I was slightly undecided, until the sun came to out and then one area look particularly carpy. It was the swim I'd spent a couple of winters back when the lake was flooded. I'd been trying to keep away from that swim, but something was appealing about it this trip. So, I dropped a bucket in the swim and had a bit more of a walkabout, but that feeling of these fish are going to switch on soon and I need to be here when they do. This is definitely the swim to be in.
I got the rest of my kit out of the car and wheelbarrowed it to the swim. I then spent a good hour with the marker rod looking for the perfect clean spots, free from any silkweed. I then spombed out some 15 mm Catalyst boilies around the area – not too many. I think they are not overly interested in food at the moment. A high proportion of the stock is held up in the Sanctuary, just mooching about, but no one has been able to tempt them to pick up a bit in there for some time.
As the day progressed, the wind picked up from the North West; however, it was due to a change in the early hours of Friday morning to a Southerly wind and slightly milder conditions.
It's going to be a fresh one tonight. Let's hope the wind swings around by morning.
I slept all night long, I was surprised by how frosty it was in the morning. No wonder I didn't get a single bleep. Ian is due down for another day trip today, hopefully, the temperatures will start to rise and there's a good chance of a bite later on this morning or even this afternoon. I'm planning on leaving my rods as they are for the next 24 hours.
The pressure is up to 1034 and will drop on Sunday to 998. It is looking very much like the wrong days for the right weather, but you can only go when you can.
The day passed without a bleep for Ian or me. It was nice and warm in the sunshine, we actually spotted some carp, unfortunately not in our swim. We did have a good look about and started to formulate a plan for the coming half-term week. The wind had now swung around to the south and was all very calm by early evening; the sunset was as spectacular as always.
Fingers crossed for a carp tonight.
I was up in the middle of the night as I always am listening out for carp and also before first light on the last morning of my session. Still, no carp crashing about. I'm really starting to think they are just not happy with this ever-changing weather and my half-term trip this year is really going to be hard going if I can't locate these carp soon.
There's a heavy band of rain due in again this Sunday (in the early hours of the morning) and unless that changes I will be off home on Saturday afternoon. It isn't a bad thing as my next session is for five nights as the family is away for the first time in two years. It's looking like we may be getting back to the regular routine – fingers crossed.
After a lot of thought this morning and checking the weather forecast, it would be really nice to spend a day with the family on Sunday, plus the pending few nights over the half-term week. The decision has been made to head home this afternoon.
I'm hopefully going to fit in a couple of day trips on the club water next week. The weather is looking likely to be wet and windy, but you can never tell these days.
Until next time
Richard
Richard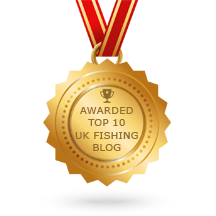 Use my code for 10% discount
The discount code applies to the entire order when purchasing the Deeper Sonars PRO, PRO+, PRO+ 2, CHIRP, CHIRP+, CHIRP 2, CHIRP+ 2. The code is valid in all countries.CODE = DEEPER-H-9OCSF