After 7 days of looking after my eldest daughter, she caught covid 19 (no doubt from school). I knew at some point, it would grace our house again. She was pretty lucky with the symptoms and only had a high temperature one day with not much coughing. It was the lack of taste that really got her, everything tasted of cardboard or very salty. But we are all free of it, she has tested negative for a couple of days and can go to school tomorrow. This gives me the opportunity to get down the lake in daylight hours on Thursday evening, not sure if I would have had the motivation to set up in the dark, the lake fishing particularly hard this January.
I arrived about 1230 in the afternoon and was a bit surprised to only find one other day angler fishing. I popped in for a chat, and he hadn't seen anything. I took a drive around the lake and a walkabout, looking for signs of anything and not a glimpse of a carp.
I settled for a swim which is close to the area where the carp had been seen, but a different swim this time and with a slightly different approach. I'd made up a bucket of ground bait balls and frozen them, I like them not to break upon impact, and I also tend to stick them in my spomb, I can't use a catapult as it hurts my elbow these days!
I only baited one spot and was going to use the other rod with a single 12mm pop-up on. I would change it around during my session. I'd brought my zig kit and was going to set up a rod during the day tomorrow, I really think this is the way forward. Once I get to grips with how best to set it up.
I love my new Summit tackle distance sticks.
Over the next 48 hours, the pressure is due to rise and then drop again, tonight is going to be cold, but Friday night is going to be 7 degrees and with sunshine tomorrow as well. I'm hoping this will wake this carp up.
The stars are out again and the mist is forming over the lake again, it's definitely going to be a cold one.
As the morning progressed, the sun came out, and Ian arrived for a few hours fishing, he brought me a pasty and a sausage roll. We sat chatting about things and it was soon his pack-up time. The rods were on the floor, he suddenly grabbed the right-hand rod and was into a good lump that was kitting right. The carp was clearly going to end up beyond the bush. Ian had his tip under the water, but it needed to be much deeper, so I quickly grabbed my waders and got into the water, the line had gone through the bush sticking out into the lake.
Ian passed me the rod, and I stuck the tip way down as much as possible. The line was over the twiggy bits at the end, I was still gaining line on the fish. At this point, I was pulling pretty hard, this was only going to end one of two ways – lost carp or in the net. I was hoping that as the fish got closer and pulled on the line, it would come free of the bush. By now, I was waist-deep and the rod underwater nearly up to the reel! I needed the line to pull free and finally, after what felt like a lifetime, it was out. I quickly handed the rod back to Ian and made my way back and sat on the edge of the swim. I was watching this lump of a carp trying its hardest to get back under there again. After another few minutes, it was wallowing on the surface, just as worn out as Ian! I slipped the Nsr50 under it.
He was over the moon and extremely keen to get back again soon, he nearly went Pike fishing on a different lake today.
I hadn't got around to the zigs at all today and was planning on leaving my rods out until tomorrow when I packed up. The weather conditions were improving by the minute and thanks to Ian's capture, my confidence levels were high.
Morning arrived and the wind had certainly picked up over the dark hours. The wind is forecast for the coming week and with that, the warmer weather. Next week's trip could certainly have better conditions for catching carp.
Until next time
Richard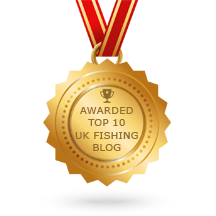 Use my code for 10% discount
The discount code applies to the entire order when purchasing the Deeper Sonars PRO, PRO+, PRO+ 2, CHIRP, CHIRP+, CHIRP 2, CHIRP+ 2. The code is valid in all countries.CODE = DEEPER-H-9OCSF